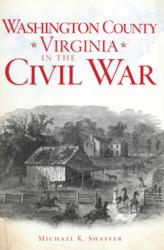 As we reflect upon the heroism and bravery displayed on both sides of the conflict during this sesquicentennial, many people seek to enhance their understanding of the American Civil War. This symposium provides such an occasion.
-- Brian Steel Wills
(PRWEB) July 12, 2012
Heartwood: Southwest Virginia's Artisan Gateway will host a Civil War Lecture Symposium with contemporary authors and scholars, Michael K. Shaffer, Brian D. McKnight, and Brian Steel Wills, Friday, July 20, at 5:30 p.m. The event, which is free and open to the public, is hosted in conjunction with Abingdon's inaugural Civil War Weekend, which runs Saturday, July 21, and Sunday, July 22 at the historic Muster Grounds.
"Our talks will explore the impact of war on a locality such as Washington County and the internecine nature of combat in the border states," said Shaffer, the assistant director/lecturer with the Civil War Center at Kennesaw State University in Kennesaw, Ga. His new book, Washington County, Virginia in the Civil War, was released in January of this year.
"We'll provide a better understanding of some of the more interesting characters from the war — men such as Nathan Bedford Forrest, Champ Ferguson, and George H. Thomas," said McKnight, whose first book Contested Borderland: The Civil War in Appalachian Kentucky and Virginia won the James I. Robertson Literary Prize. McKnight is associate professor of history at the University of Virginia's College at Wise. His newest release, Confederate Outlaw: Champ Ferguson and the Civil War in Appalachia, published by LSU in 2011, won the Tennessee History Book Award.
"As we pause to reflect upon the heroism and bravery displayed on both sides of the conflict during this sesquicentennial period, many people seek to enhance their understanding of the American Civil War, and this symposium provides such an occasion," adds Wills, the director of the Civil War Center and professor of history at Kennesaw State, whose newest work is a biography, George Henry Thomas: As True As Steel. "All three of us have ties to Southwest Virginia and eagerly anticipate spending the evening with old friends, and new, at Heartwood."
Heartwood is located at Exit 14 on I-81 in Abingdon. For more information about the July 20 Civil War Lecture Symposium, call (276) 492-2400 or visit http://www.heartwoodvirginia.org.