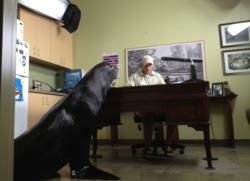 Shooting a 460-lb sea lion on a small office set was not without its challenges.
St. Louis, MO (PRWEB) July 16, 2012
Advertising Savants, a St. Louis-based agency, has created a multi-media campaign for the newest exhibit at the Saint Louis Zoo, Sea Lion Sound. The 1.5-acre, $18 million exhibit features a walk-through, transparent tunnel into the sea lion habitat – the first in North America. It also includes habitats for 11 California sea lions. Zoo visitors can watch the sea lions through glass walls and in the 35-foot underwater viewing tunnel, and attend a sea lion show in the new 811-seat arena.
The campaign includes "The Call Up," a 30-second television commercial about Bennie, a young sea lion who has always dreamed of making it to "The Show." The commercial is meant to recall classic baseball movies such as "Bull Durham" and "Major League." Tim Halpin, Associate Creative Director, says, "When Bennie is called into the 'manager's' office, he's not sure if he's about to receive good news or bad news. But when he finds out he's been called up to the big leagues, he's ecstatic, just as any minor leaguer would be."
Shooting a 460-lb sea lion on a small office set was not without its challenges. The Saint Louis Zoo's Kyle Ulmer (Zoologicial Manager, Pinnipeds) worked with Bennie and the other sea lions to ensure they would be able to perform certain behaviors when cameras were rolling. Using fish as a reward, Bennie was trained to hop out of the water, walk down a long hallway and stop at a desk inside the office. The spot also features Steve Bircher (Curator,Mammals), who initially summons Bennie into Kyle's office.
Once Bennie is told he's being called up, the commercial cuts to various scenes showing visitors enjoying the new exhibit and performances in the Sea Lion Arena.
The campaign also includes two 10-second television spots, social media and out-of-home posters and billboards, with such headlines as "Spend Your Summer Underwater" and "Let The Applause Begin."
The agency team also includes Tia Liston, Associate Creative Director; Ashley Harrison, Account Manager; Amanda Black-Kinder, Digital Strategist; and Michael Windler, Agency Producer. The commercials were produced by Coolfire Media, and directed by Jason Stamp.
ABOUT ADVERTISING SAVANTS-Advertising Savants is an idea-driven agency specializing in the areas of home, health and wealth. Launched in 1991, the agency has built a reputation for creating great work based on solid strategies for brands that help people live better, thrive in good health and prosper.
# # #