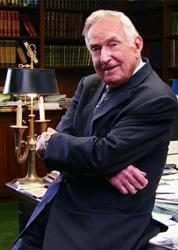 A true exemplar of the California Dream
SAN DIEGO, Calif. (PRWEB) July 11, 2012
California Gov. Jerry Brown has proclaimed July 12 as Walter J. Zable Day in honor of the founder of San Diego-based Cubic Corporation, a leading technology and specialized services company.
In his proclamation, Brown lauds Zable as "a true exemplar of the California Dream" for his accomplishments in sports, business and philanthropy.
Zable founded Cubic in a San Diego storefront in 1951. He was president and CEO of the company until his death June 23. At 97, Zable was the oldest active CEO of any publicly traded company in the world.
Today, Cubic is a diversified systems and services company in transportation, defense and RFID markets, with 7,800 employees in nearly 60 countries and annual revenue exceeding $1.2 billion. A memorial service for Zable will be held at Cubic's San Diego headquarters on July 12.
Cubic Corporation is the parent company of three major business segments: Defense Systems, Mission Support Services and Transportation Systems. Cubic Defense Systems is a leading provider of realistic combat training systems, cyber technologies, asset tracking solutions, and defense electronics. Mission Support Services is a leading provider of training, operations, maintenance, technical and other support services. Cubic Transportation Systems is the world's leading provider of automated fare collection systems and services for public transit authorities. For more information about Cubic, see the company's website at http://www.cubic.com
###