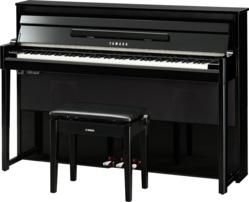 The NU1 stands to define a new market because it offers outstanding technology at an unprecedented price point, combined with a superb CFX sample, all while being the first hybrid to use the Yamaha upright action.
Buena Park, CA (PRWEB) July 12, 2012
Yamaha today announced that the company is now shipping the NU1, the world's first digital/acoustic hybrid piano to combine an authentic upright action with a remarkable Yamaha concert grand piano sound sample. Available at authorized Yamaha piano dealers nationwide, the NU1 leverages the industry's most innovative digital technology to deliver the sound of a concert grand, and the feel of an exceptional upright, at a fraction of the size and cost.
The instrument's superb upright action – featured in Yamaha's higher-end upright pianos – is inspired by the legacy of the immensely popular U1 acoustic upright piano, which has maintained its reputation for being a durable, reliable and professional upright for half a century. In fact, Yamaha has built more U1 pianos than the combined models produced by most piano manufacturers. The NU1's authentic action is perfectly complemented by its lush sound, sampled from Yamaha's finest hand-built concert grand piano, the CFX. In addition, the NU1 uses Yamaha's acoustic technology to reproduce the characteristic resonance felt when playing an acoustic piano.
"Built on the legacy of the venerable U1, the NU1 is an artfully designed instrument in terms of both form and function," noted Jim Levesque, hybrid piano marketing manager, Yamaha Corporation of America. "Its beautiful sound and satisfying action are matched by exceptional reliability and versatility, at a highly affordable price point."
According to Yamaha Keyboard Division Marketing Director Mark Anderson, "The NU1 stands to define a new market because it offers outstanding technology at an unprecedented price point, combined with a superb CFX sample, all while being the first hybrid to use the Yamaha upright action."
Housed in a refined, compact cabinet, the NU1 brings the renowned sound of Yamaha to a wide variety of home and institutional settings. The company anticipates the instrument to be especially popular among colleges and universities, which historically have favored purchasing the U1 in large quantities for practice facilities. These venues, in particular, can now benefit from NU1's privacy setting, which enables pianists to practice "silently" using headphones, as well as the fact that the instrument requires no tuning.
The instrument features natural wood keys; five Voices, including a remarkable sound sampled directly from Yamaha's highly-acclaimed CFX Concert Grand Piano; 50 preset songs; five demo songs; computer connectivity; and a USB Audio Recorder, for archiving performances.
The elegant simplicity of the NU1 blends effortlessly into any setting, adding an air of distinction without being imposing. It offers the warmth and natural presence of an acoustic instrument in a stylish, compact form.
The NU1 is part of a newly established hybrid category that began with the AvantGrand Series of pianos. Introduced in 2009, the acclaimed technology of the AvantGrand offers advanced piano sound reproduction without the tuning, cost or footprint of a comparable stringed instrument. This hybrid category caters to serious players who live in small spaces, as well as families on limited budgets, offering them the feel and sound of an acoustic grand, as well as institutions seeking a high quality, low maintenance instrument to meet the performance and practice demands of students and faculty.
The NU1 carries an MSRP of $5,499.
For more information on the NU1, write Yamaha Corporation of America, P.O. Box 6600, Buena Park, CA 90622; telephone (714) 522-9011; e-mail infostation(at)yamaha(dot)com; visit
http://4wrd.it/NU1PAGE.
-END-
About Yamaha
Yamaha Corporation of America (YCA) is one of the largest subsidiaries of Yamaha Corporation, Japan and offers a full line of award-winning musical instruments, sound reinforcement and home entertainment products to the U.S. market. Products include: Yamaha acoustic, digital and hybrid pianos, portable keyboards, guitars, acoustic and electronic drums, band and orchestral instruments, marching percussion products, synthesizers, professional digital and analog audio equipment, Steinberg recording products and Nexo commercial audio products, as well as AV receivers, amplifiers, Blu-ray/CD players, iPod docking systems, home-theater-in-a-box systems and its exclusive line of Digital Sound Projectors. YCA markets innovative, finely crafted technology and entertainment products and musical instruments targeted to the hobbyist, education, worship, professional music, installation and consumer markets.