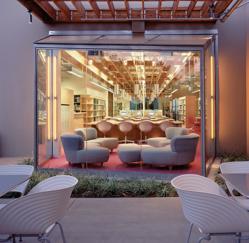 Los Angeles, CA (PRWEB) July 12, 2012
The Smithsonian's Cooper-Hewitt, National Design Museum has just announced that First Lady Michelle Obama will celebrate the 2012 National Design Awards on Friday, July 13, 2012, with a luncheon at the White House for the winners. The Interior Design recipient is Los Angeles-based Clive Wilkinson Architects, who designed FIDM/Fashion Institute of Design & Merchandising's Orange County and San Diego campuses, the Los Angeles campus Annex, and San Francisco's Library. The L.A.-based architecture firm began working with FIDM in 2002.
For the Orange County campus, CWA used bright colors, modern design, and exuberant details that inspire students, staff, and visitors alike. In San Diego, a warm palette or oranges, yellows and greens compliment the rich blue skies and city skyline views. A large oak-paneled ceiling, sand colored quartz flooring, and graphic walls make the campus a stand out. In Los Angeles, CWA used a theme of water, including a raised "pool" platform where students could relax and work on laptop equipped loungers.
In support of the First Lady's emphasis on education and outreach to the Washington, D.C., community, the award winners will participate in an education program for local high school students before the event. Mrs. Obama serves as the honorary patron for this year's National Design Awards. The annual National Design Awards celebrate design in various disciplines as a vital humanistic tool in shaping the world.
FIDM/Fashion Institute of Design & Merchandising is a co-educational, specialized, private college dedicated to educating students for the Fashion, Graphics, Interior Design, and Entertainment industries. Known as a one of the top fashion design schools, FIDM is also a leading graphic design school and interior design school. Visit fidm.edu for more information.