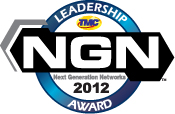 New York, NY (PRWEB) July 12, 2012
Global Convergence Solutions, Inc., (GCS) a leading pioneer in inter-carrier Operational and Business Support Systems (OSS & BSS) for the worldwide telecommunications marketplace, announces it has been named a winner of the 2012 NGN Leadership Award from INTERNET TELEPHONY magazine and Next Gen Mobility magazine. INTERNET TELEPHONY and Next Gen Mobility magazine are operated by TMC, a global, integrated media company helping clients build communities in print, in person and online.
The 2012 NGN Leadership Awards recognize the growth and evolution of today's network technologies, including infrastructure and enabling technologies, as well as applications and services designed to be delivered on these advanced networks. GCS' Dynamic Routing & Rating Management Solution won this award.
The GCS Dynamic Rate Management Solution is the next generation of carrier operational tools enabling carriers to possess the controls and capabilities needed to optimize inter-carrier voice business. The GCS Dynamic Rate Management Solution includes features and functions that cover a range of services from Carrier Entity Management to Rate Management, CDR Processing, Inter-Carrier Invoicing and Credit limit management. In short, GCS provides tools and capabilities to allow carriers to manage day-to-day tasks.
"GCS is honored to receive this award from TMC, a true leader in the technology media space," states Neal Axelrad, CEO of Global Convergence Solutions. "As we move towards meeting our customers' future needs, we strive to remain at the forefront as an innovator and partner to the companies we serve. The technologies of tomorrow are fueling the ways our customers do business and we are dedicated to providing the software platforms that make their business transactions seamless."
"The NGN Leadership Award recognizes those companies that are transforming this industry and bringing innovative products and services to market," continues Rich Tehrani, CEO of TMC. "We are pleased to honor companies such as Global Convergence Solutions driving the next generation of technologies that will enable our communications needs."
Winners will be featured in the July/August digital issue of INTERNET TELEPHONY and on http://www.itmag.com and http://www.nextgenmobilitymag.com.
For more information about TMC, visit http://www.tmcnet.com. For more information on Global Convergence Solutions, visit http://globalconverge.com/.
About INTERNET TELEPHONY magazine
INTERNET TELEPHONY has been the IP Communications Authority since 1998™. Beginning with the first issue in February of 1998, INTERNET TELEPHONY magazine has been providing unbiased views of the complicated converged communications space. INTERNET TELEPHONY offers rich content from solutions-focused editorial content to reviews on products and services from TMC Labs. INTERNET TELEPHONY magazine reaches more than 225,000 readers, including pass-along readers. For more information, please visit http://www.itmag.com.
About TMC
TMC, celebrating its 40th Anniversary in 2012, is a global, integrated media company that helps clients build communities in print, in person, and online. TMC publishes the Customer Interaction Solutions, INTERNET TELEPHONY, Next Gen Mobility and Cloud Computing (formerly InfoTECH Spotlight) magazines. TMCnet.com, which is read by 1.5 million unique visitors each month, is the leading source of news and articles for the communications and technology industries. TMC is the producer of ITEXPO, the world's leading B2B communications event. In addition, TMC runs multiple industry events: including Mobility Tech, M2M Evolution, ChannelVision Expo, MSPWorld, Super WiFi (News - Alert), SUITS, LatinComm, HTML5 Summit Conferences and more.Visit TMC Events for a complete listing and further information.
For more information about TMC, visit http://www.tmcnet.com.
About Global Convergence Solutions, Inc.
Headquartered in central New Jersey (USA), GCS provides software solutions to the global telecommunications carrier marketplace. Its customers include some of the world's largest and most diverse communications service providers including, Earthlink, Sify, KDDI and IBasis-KPN. The GCS Dynamic Management Solution suite is a set of carrier grade tools that automates 95% of the tasks carriers perform every day. For more information, visit http://www.globalconverge.com.
For Global Convergence Solutions media inquiries, contact:
Jaymie Scotto & Associates
866-695-3629
pr(at)jaymiescotto(dot)com