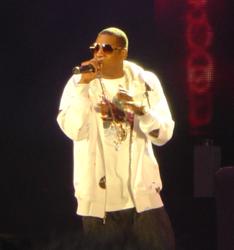 Jay-Z added 2 more shows to his Barclays Center Concert Series due to unprecedented demand for tickets.
Brooklyn, NY (PRWEB) July 11, 2012
Great News for all Jay-Z Fans! Due to unprecedented demand, Jay-Z has added two more concerts to his Opening Concert Series at the new Barclays Center in downtown Brooklyn. The Barclay's Center is also the new home of the Brooklyn Nets. With the addition of the new dates, he now will be performing five live concerts during a two-week time period. Coincidentally, Jay-Z is also a Brooklyn native and part owner of the Brooklyn Nets which has added to the hype of his upcoming gig.
Jay-Z's schedule at the Barclays Center is as follows:
Friday, September 28, 2012 (9/28/12)
Saturday, September 29, 2012 (9/29/12)
Sunday, September 30, 2012 (9/30/12)
Wednesday, October 4, 2012 (10/4/12)
Thursday, October 5, 2012 (10/5/12)
Originally, Jay-Z planned for a three night series, however, his fans won and he will be at the new venue for a total of 5 nights. Cheap Concert Tickets has discounted tickets for all upcoming shows and this well known online ticket exchange is also offering a special customer appreciation promo code JAY-Z-BARCLAYS for special savings. Jan, the website manager of CheapConcertTickets.me states "All tickets for Jay-Z are scanned for authenticity and customers need not worry about fakes."
Jay-Z was born in 1969 and his real name is Shawn Corey Carter. He is definitely one of the most successful African-American artists of his generation and his net worth was said to be over $450 million as of last year. Over his career, he's sold about 50 million albums around the World and he's also received 14 Grammy Awards for his outstanding talents as a musician, rapper and songwriter. Some of his most beloved albums include "The Blueprint" and "Reasonable Doubt."
Jay-Z is married to Beyonce Knowles and they are the parents of a beautiful baby girl, Blue Ivy Carter. He will be performing at the home of the Brooklyn Nets of which he is a partial owner. His many accomplishments over the years have ranked him as the 10th most successful artist of last decade, #5 top solo artist on the Billboard Ranking Board and the 4th most popular rapper in the World. Only 50 Cent, Eminem and Nelly are ranked higher in the rapper category. Rolling Stone Magazine has given him the 88th spot on their "Greatest All Time Artists" list.
CheapConcertTickets.me delivers tickets to sold out concerts and events worldwide when no one else can and they do so at discounted prices. As a member of TicketNetworkDirect they can guarantee delivery of timets on time for sporting events like NASCAR, NBA, NFL AND NHL, and for the hottest theater and concert events too. With CheapConcerttickets.me customer service is a priority, for more information email support(at)cheapconcerttickets(dot)me or visit http://www.cheapconcerttickets.me.
Cheap Concert Tickets has the lowest prices online for Jay-Z Barclays Center Tickets, Jason Aldean tickets and all other upcoming 2012 concert tour tickets.