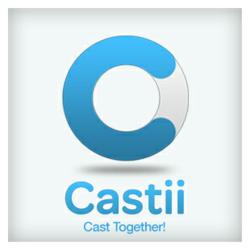 Castii lets you start a story you want to tell—and invite others to pile on with their own bits of the narrative.
Seattle WA (PRWEB) July 12, 2012
New, free iPhone app Castii aims to turn the idea (and limitations) of photo sharing on its head, while expanding the notion of what's possible with social media apps.
Like Pinterest, but with a group spin, Castii brings many people together to tell a single story through photos, video and audio. More dimensional than the one-to-many model of typical status update and photo sharing apps, Castii lets users start "Casts" on topics or events that interest them, right from their iPhone—and then invite the world (or just close friends) to add their own content. The resulting Casts combine users' content on a single topic, but with multiple perspectives. Because it's all done on-the-fly right from users' iPhones, content has a more immediate, fresh and homegrown vibe.
The more people who engage in and upload content to each Cast, the more perspectives there are, and the richer the experience for everyone in the Cast. (Castii is also available on the Web for non-iPhone users to join and view, like and comment on Casts.) With Castii, users create and join Casts that are meaningful to them, both Casting with existing friends and making new ones along the way. Visit https://castii.com for more details.
"Castii was designed to give users a fun and instantly accessible way to broadcast what's important to them, what catches their eye, what makes them tick," said Taka Suzuki, Castii's co-founder. "Castii lets you start a story you want to tell—and invite others to pile on with their own bits of the narrative."
In addition to public casts, users can choose to make Casts private, offering a new way for families, friends, sports teams, school groups, and even businesses to capture multiple views of the same event—and have all the memories in one place. The app also allows users to share media on Facebook and Twitter instantly, in addition to sharing within the Castii app and website.
Summer is one of the best times to share moments with friends and Castii is enriching the mobile sharing experience by creating summer Contest Casts! Starting (July, 2012), users can join weekly and monthly Contest Casts and upload their content from their iPhones for a chance to win prizes!Check out the full list of Castii Contests.