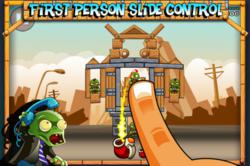 Players must use their best strategy skills to ward off miniature zombies while protecting innocent hostages in this fun physics puzzle game accessible for all ages.
DUSSELDORF, Germany (PRWEB) July 12, 2012
net mobile AG, creators of the hit apps Astral Commander and Greedy Pigs, today announced the release of its casual strategy puzzle game for iOS and Android, Bomb the Zombies. Players must use their best strategy skills to ward off miniature zombies while protecting innocent hostages in this fun physics puzzle game accessible for all ages.
Available for free in the App Store and Google Play, Bomb the Zombies provides hours of fun and challenging gameplay with over 6 colorful worlds to explore featuring 90 levels altogether. Players must skillfully squash and knock over building walls that house an invasion of zombies as well as innocent hostages. Strategy and precision are essential because ammunition is limited, and players can achieve a higher score by keeping the hostages safe while conserving ammo.
Bomb the Zombies features:
● Test your strategy skills in this realistic physics puzzle game
● Advance through 90 levels across 6 uniquely designed worlds featuring challenging obstacles filled with pint-sized zombie creatures
● See beautifully designed characters and territories overrun by zombies, including the Metropolis, Haunted Castle, Ancient Ruins and Pirate Bay
● Choose from a variety of ammo that you can use to topple building walls and squish zombies, while protecting the innocent hostages
● Lob bombs at zombies using intuitive tap and toss controls, which are easy to learn and accessible for players at all ages
● Challenge and rank against other players and friends around the world through the global high score system in the Game Center and Scoreloop
● Collect treasure boxes in the field to earn extra points, and purchase coins in-app to buy additional unlocked levels and future mystery upgrades
Heroes are wanted to save the innocents from the undead! Play Bomb the Zombies today!
Download Bomb the Zombies free on the App Store (4+ rating):
http://itunes.apple.com/us/app/bomb-the-zombies/id524934008?mt=8
Download Bomb the Zombies free on Google Play (4.6 star rating):
https://play.google.com/store/apps/details?id=net.netm.app.ZombieBomb
About net mobile AG
The net mobile AG Group is a leading international full-service provider for mobile and interactive value added services and payment solutions. Founded in November 2000, the company is seen as an innovation leader with a comprehensive service approach including consulting, design and technical implementations for a multichannel marketing campaign management. Furthermore net mobile AG offers a variety of smartphone applications and e-books since 2009. Partnering with all major music labels and digital rights-owners in the film, television and games industry, net mobile AG also ensures full content and royalty management. Its more than 500 customers include national and global mobile telecommunication providers, media companies and TV stations for which it provides mobile interactive TV services. The net mobile AG Group includes net mobile AG and the subsidiaries net mobile minick GmbH (formerly: Minick Germany GmbH) in Hamburg, First Telecom GmbH, First Communication GmbH and SN Telecom GmbH in Frankfurt, net mobile Verwaltungs AG and net mobile minickSchweiz AG in Zurich (Switzerland), net mobile UK Ltd. In London (UK), and net mobile MINICK S.L. in Madrid (Spain). Since December 2009 NTT DoCoMo is major shareholder, owning more than 80% of net mobile AG shares. For more information please visit http://www.net-m.de.
Media Contact
Matt McAllister
Fluid PR, Inc.
matt(at)fluidspeak(dot)com
@FluidSpeak