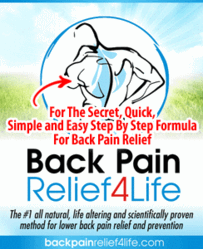 The Back Pain Relief4Life Program is focused on correcting the true cause of back pain.
(PRWEB) July 14, 2012
The Back Pain Relief4Life Program was founded by Ian Hart, B.S., C.S.C.S. The program has been featured in SELF Magazine and on CBS. The $47 program features eight sequential movements designed to offer back pain relief. In addition, the program comes with nine short coaching videos and a video titled "The Cubicle Cure", all of which are included with the program's promotional pricing. The educational program is meant to help people treat back pain without using prescription or over-the-counter drugs.
According to the Columbus Dispatch, the FDA recently vowed to curb pain killer abuse. Pain killers are addictive and rarely help cure back pain. In fact, the pain issue is not addressed properly through the use of pain killers, regardless if they are prescribed or over-the-counter. "Pills are a distraction from the real problem," says Ian Hart. "People have to understand that most back pain is a physical issue. There is a reason for it and many times that reason isn't fixed by taking a pill. My program addresses the root cause of most back pain and what can be done to alleviate it."
The Orlando Sentinel's July 10th article agrees. The article cites many examples of people having issues obtaining pain medication because of abuse. [sic]"Chronic-pain patient Fred Brown, 60, has been on pain medications since 1997 to manage chronic upper-back and neck pain." Although The Back Pain Relief4Life Program may be beyond the issues noted by Mr. Brown, most people could benefit from back pain specific exercises. "My program has been designed to offer physical relief," Hart continued. "The Back Pain Relief4Life doesn't promise to be a cure for all back pain, but it is more cost effective, and in some cases safer, than putting pain killers into one's system and potentially doing damage to the liver. I believe $47 is worth trying what could be a simple, physical solution to aggravating back pain."
The Back Pain Relief4Life Program comes with a 60 Day money back guarantee. Access to the program's videos is immediate. Seeking medical advice prior to starting the program is advised. The Back Pain Relief4Life Program is focused on correcting the true cause of back pain and is not meant to be a "quick" fix. More info, and how to purchase, can be found here: http://www.backpainrelief4life.com/