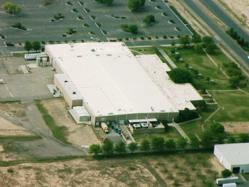 The surprisingly low minimum bid is a clear indication that the seller is serious about selling the property
ROSWELL, New Mexico (PRWEB) July 12, 2012
Located along Main Street in the town of Roswell sits an approximately 104,000 square foot manufacturing building that both local and out-of-state buyers have noticed as a sweet deal.
Featured on the leading real estate auction website, Freedom Realty Exchange](FRE.com), this former candy factory has attracted the attention of buyers from multiple states because of its surprisingly low minimum bid and the convenience for them to participate in the auction without physically being present at an auction event. That is because all auctions on FRE.com are conducted 100% online, thereby allowing buyers from anywhere to submit bids and purchase the property.
"Conducting an online auction for a property located in a smaller sized city such as Roswell might seem excessive, but this property has enormous appeal to buyers, nationally and internationally, who are looking for a good deal on real estate", states Ryan Devin, director of Auction Operations.
Property Description:

3701 S. Main Street, Roswell, NM – the building is +/- 103,774SF with over 6,300SF of office space and sits 21.5 acres of land. There are seven loading doors, 3 loading docks and 20' ceilings.
The minimum bid is only $899,000 or $8.66 per SF. All bids must be submitted by August 2nd.
As with all of auctions on the Freedom Realty Exchange website, property research, due diligence and even bidding are conducted completely online, removing the inconvenience and unwanted pressure that comes with a traditional outcry auction. Interested buyers can access property documents and auction details by visiting FRE.com/132R4.