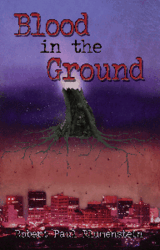 Peyton Costello is a hero readers can cheer for as they hope for the ultimate destruction of the dark and twisted Opossum.
MIDLOTHIAN, Va. (PRWEB) July 25, 2012
Peyton Costello is a man who is searching for some peace in this new novel. He's hunted down the man who murdered his parents, Opossum, and handed him over to the authorities, who quickly determined that the death penalty is in order. However, Peyton is haunted by visions of horror -- a brand of horror that is applied by Opossum alone. These visions are terrifying enough to tear him from his pregnant wife, Oriana, and their young son and compel him to contact Captain Phil Mahoney in Richmond, Virginia, where Opossum was held on death row. Shortly after Peyton's inquiry, the worst-case scenario becomes reality: Opossum is free, and he's coming after Peyton.
Accompanied by Father Gates, a priest who spent time with the former prisoner, and Dr. Kirkpatrick, one of the psychiatrists who worked closely with Opossum during his imprisonment, Mahoney makes his way to Germany, where Peyton and his family have lived quietly for the last few years. Together, Mahoney and Peyton follow Opossum around the globe, attempting to stop him from wreaking havoc among the innocent. Can Peyton and Mahoney keep Opossum and his evil impulses at bay? Will light ultimately triumph over darkness, and can Peyton survive the battle?
"Blood in the Ground" is a thrill ride, with twists and turns that will keep the reader wanting more. Peyton Costello is a hero readers can cheer for as they hope for the ultimate destruction of the dark and twisted Opossum. Self-proclaimed "writer of metaphysical fiction" Robert Paul Blumenstein has published two other novels, the first two books of the riveting Ascension Trilogy.
----------
For additional information, please visit http://www.bloodintheground.com.
Blood in the Ground
Robert Paul Blumenstein
Dog Ear Publishing
ISBN: 978-1-4575-1275-9 196 pages $5.99 US
ISBN: 978-1-4575-0880-6 196 pages $12.95 US
ISBN: 978-1-4575-0996-4 196 pages $29.95 US
Available at Ingram, Amazon.com, Barnes & Noble and fine bookstores everywhere.
About Dog Ear Publishing, LLC
Dog Ear Publishing offers completely customized self-publishing services for independent authors. We provide cost-effective, fast, and highly profitable services to publish and distribute independently published books. Our book publishing and distribution services reach worldwide. Dog Ear authors retain all rights and complete creative control throughout the entire self-publishing process. Self-publishing services are available globally at http://www.dogearpublishing.net and from our offices in Indianapolis.
Dog Ear Publishing – self-publishing that actually makes sense.