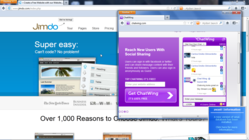 San Diego, CA (PRWEB) July 12, 2012
Jimdo, one of the most prominent website builders of today, is still climbing the ladder of online popularity. This is based on the amount of websites being created in the Jimdo community day by day. Because of this important fact, the Chatwing team has decided to expand in the Jimdo community without hesitation. The team has introduced its global chat box to Jimdo bloggers, and it mostly received positive reviews. The Chatwing chat tool is also known for its versatility in different blogging sites.
Chatwing is versatile in the sense that users can discuss about different topics. These topics range from trends, technology, current events, fashion news, and even some helpful tips. Adding to that, users can also take advantage of the social media integration. With this feature, Chatwing shoutbox users can now log in with their Facebook or Twitter accounts. This is the reason why some Facebook group makers have used the Chatwing tool in their short marketing campaigns.
Even though the Chatwing team has almost suffered from low visibility months ago, the developers were quick to deal with the problem. They introduced various upgrades, raising the adaptability and overall speed of the shout box. Because of this, many people were able to use the Chatwing tool for different reasons. The team has even upgraded the recent version's user capacity to 600.
Expansions are the keys for any business success—that is why the Chatwing team is always looking forward to the improvement of their web chat tool. Apart from that, the developers are always putting the premise of website chat as a top priority because it will make bloggers and web surfers satisfied.
About Chatwing.com
Chatwing.com has developed live chat software for websites and blogs. It caters to different online communities due to its high rate of connectivity. Everyone can create a customizable live chat box feature in 1 minute or less. Users have the ability to customize the size, color, and fonts of the chat product. The ability to chat live via social media accounts such as Facebook and Twitter enable Chatwing to offer a personal and unique real-time experience to all sites. Chatwing is 100% free and very easy to use.