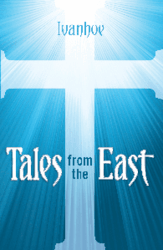 Living and working in the Middle East shaped the author's viewpoint when writing this thought-provoking new book made up of two tales.
DAYTON, OH (PRWEB) July 26, 2012
Living and working in the Middle East shaped the author's viewpoint when writing this thought-provoking new book made up of two tales: "Return of Ivanhoe" and "Toilet Jinn Un-flushed." Both stories touch on the occult, but the first tale features strong religious messages, while the second relays a comical horror story.
"Return of Ivanhoe" centers on a legendary figure who returns to the West to warn others about the growing threat of occultism he saw while working in an Islamic country, Saudi Arabia. A battle is brewing – a conflict predicted by both the Bible and Quaran -- when Christ returns to Damascus, Syria. This dedicated Christian analyzes the two religious works to show where the threat exists and vows to defend the Israelites, who must stay away from the ancient enemy of God – the power of the occult. Comparing Christianity and Islam in the context of history, the protagonist offers a chilling look at possible futures.
In "Toilet Jinn Un-Flushed," a toilet jinn – the most feared and disgusting of all jinn entities – has risen as predicted from a central region in the Arabian Peninsula. The author combines Arab superstitions and ancient Hebrew demonology to explore current religious aspects of demons and the occult and what havoc this evil unleashes in the United States. He starts in Dayton, a city declining physically and economically, fooling a woman into taking his place. His unnatural power and disgusting habits create mayhem. Eventually, residents subdue this hideous being with the traditional enemies of poor hygiene: water, bleach and cleanser.
The author, a scientist and engineer who has published technical journals and patents, has worked on engineering projects in the United States, Europe and the Middle East. He has degrees from the City University of New York and Columbia University and did postgraduate study at Purdue University and the University of Maryland.
For additional information, please visit http://www.TalesFromTheEast.com.
Tales from the East
Ivanhoe
Dog Ear Publishing
ISBN: 978-1-4575-1168-4
192 pages
$15.00 US
Available at Ingram, Amazon.com, Barnes & Noble and fine bookstores everywhere.
About Dog Ear Publishing, LLC
Dog Ear Publishing offers completely customized self-publishing services for independent authors. We provide cost-effective, fast, and highly profitable services to publish and distribute independently published books. Our book publishing and distribution services reach worldwide. Dog Ear authors retain all rights and complete creative control throughout the entire self-publishing process. Self-publishing services are available globally at http://www.dogearpublishing.net and from our offices in Indianapolis.
Dog Ear Publishing – self-publishing that actually makes sense.