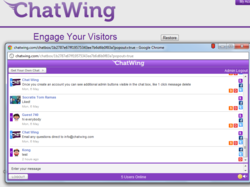 Los Angeles, CA (PRWEB) July 13, 2012
Google+ Hangouts is one of the key features of Google+ which made it phenomenal until today. This is according to collective global reviews regarding the success of Google+ Hangouts in terms of communication. The Chatwing team has recently observed that a lot of Google Hangouts users are also bloggers. This is why the team has introduced a global chat box that can help bloggers enjoy a stream of online communication.
The Chatwing shoutbox has many key features that can help a blogger or a casual web surfer. First, Chatwing offers social media integration. With this feature, Chatwing users can log in with their social media accounts, such as Facebook and Twitter. This is useful for people who want to expand their social networks. Second, Chatwing promises ease of access and installation. Navigation in a Chatwing shout box can be accomplished easily, especially the installation process for blogs and websites. Last, but obviously the strongest feature, Chatwing's versatility is immense. Users can discuss thousands of topics, ranging from anything imaginable.
The expansion in Google+ Hangouts community is a move that has been orchestrated with caution. Chatwing developers have studied the way Google+ users behave, and they have also noted their needs. In this expansion, the dev team has also worked hard to ensure that the chat widget will run smoother and without technical glitches as much as possible. Currently, the expansion is doing well and Chatwing is generating signups from Google+ users.
Aside from Google+ Hangouts, the Chatwing team is planning to expand in other online communities. This requires a long stretch of time and effort. Additionally, the team will also introduce different upgrades and developments to ensure that the chat platform will run smoother than ever. Currently, Chatwing team maintains a blog that can be visited for more web chat information.
About Chatwing.com
Chatwing.com has developed live chat software for websites and blogs. It caters to different online communities due to its high rate of connectivity. Everyone can create a customizable live chat box feature in 1 minute or less. Users have the ability to customize the size, color, and fonts of the chat product. The ability to chat via social media accounts such as Facebook and Twitter enable Chatwing to offer a personal and unique real-time experience to all sites. Chatwing is 100% free and very easy to use.