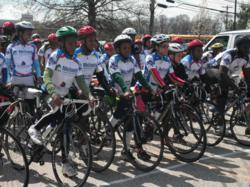 Affordable housing is not just about four walls and a roof, it is about presenting families and young people with opportunities to improve themselves and their communities
Philadelphia, PA (PRWEB) July 12, 2012
Team Jackie Jones, a competitive youth cycling group sponsored by The Michaels Organization, yesterday named Philadelphia City Council President Darrell Clarke an honorary member of the team in recognition of his continual support of affordable housing and services that assist the city's most vulnerable families.
The guest of honor at a cycling and safety demonstration held by the team at Montgomery Townhouses on 20th Street, Councilman Clarke congratulated the youth cyclists on their commitment to getting fit, setting goals, being good team players, and working hard to achieve success not only in competitive cycling but also in school and in life.
"Affordable housing is not just about four walls and a roof, it is about presenting families and young people with opportunities to improve themselves and their communities," said Council President Darrell L. Clarke, who represents the 5th district. "The young cyclists and academics of Team Jackie Jones are to be commended for their discipline and their drive, and I am humbled to be an honorary member of this inspiring team."
To participate on Team Jackie Jones, the youth cyclists must maintain good grades in school and commit to regular training and practice sessions.
"Councilman Clarke has always been a friend to families in this city who are in need of affordable housing opportunities," said Robert J. Greer, president of The Michaels Development Company, which developed and owns Montgomery Townhouses. "The Michaels Organization is proud to be a partner with him and the city on creating communities that offer not only quality affordable housing, but supportive services that benefit our residents and the neighborhoods at large," Greer said.
Michaels' sister company, Interstate Realty Management (IRM), provides property and asset management, as well as award-winning supportive services to affordable housing communities at more than 330 properties across the United States, including 13 in the city of Philadelphia.
IRM began offering competitive cycling programs at its communities in 2007, just one of many sports-oriented programs that offer healthy activities to young residents and keep them focused on building life skills, and developing post high school education goals. Another program, offered in conjunction with Philadelphia sports legend Sonny Hill, has been sponsoring an after-school basketball program in the city for more than 20 years.
"We offer programs that interest young people and at the same time, actually build skills that will be useful to them in the future," said IRM's Vice President of Social Services, Olivette Beaton. "We work to offer positive outlets for children, who might otherwise be just hanging out or getting involved in something negative," she said.
Competitive cycling is one of IRM's most popular programs, even though it requires much hard work on the part of the young riders: On Sunday, July 8, Team Jackie Jones participated in the American Cancer Society's annual bike-a-thon in Philadelphia, riding 66+ miles to raise funds for the charity. The team, which is named for the late Jackie Jones, the first director of Interstate Realty Management's Social Services program, also regularly competes in cycling events with pro riders in the city and across the state.
About The Michaels Organization:
The Michaels Development Company and Interstate Realty Management are companies of The Michaels Organization, a family of eight integrated but independent companies dedicated to excellence in affordable, mixed-income, military and student housing. Michaels Development is the number one private-sector affordable housing owner in the country, having developed more than 55,000 units in 32 states, D.C., and the U.S. Virgin Islands. Interstate currently manages 38,000 housing units across 330 properties and is an industry leader known for its award winning supportive services programs. Visit http://www.TheMichaelsOrg.com for more information.