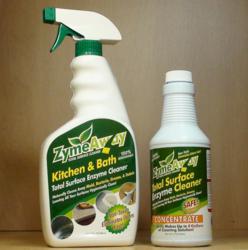 ZymeAway the safe and effective organic mold and flood water cleaner passes sensitive forensic sewage test.
Westlake, OH (PRWEB) July 12, 2012
ZymeAway LLC contracted EMSL Analytical, Inc., the nation's leading environmental testing firm, to analyze the before and after testing swabs submitted by ZymeAway LLC for their M013: Sewage Contamination in Buildings test analysis. This is a highly sensitive forensic test capable of detecting the present of (Total Coliform, E.coli, and Enterococci) bacteria. The test analysis shows whether any of the substances are Present or Absent on the testing swabs.
The test results clearly revealed the before swab did contain the above bacteria as "Present" and the after cleaning swab showed the above bacteria as "Absent." To view a side-by-side comparison test conducted at the exact same time and location using a Luminometer (Laser Light Meter) click here [VIDEO TEST .
The M013 test is so sensitive and accurate, that even the smallest microscopic trace of sewage matter present on a test swab would be detected and the analysis would show "Present."
Cleaning all washable surfaces and materials of mold and sewage flood water debris is now safe and highly effective when using the all natural organic enzyme cleaner called ZymeAway.
During the Iowa Cedar River floods of June 2008 in Cedar Rapids and Iowa City the most hospitalized victims were victims from asphyxiation due to inhaling harsh toxic bleach and splashing where skin burning and critical eye damage far outnumbered all other injuries. When the safe and effective ZymeAway enzyme formula was used, it not only cleaned thoroughly, it actually removed the harsh and toxic bleach odors from inside residences and buildings. The ZymeAway enzyme formula cleaned properties completely and effectively, and they passed FEMA re-occupancy inspections.
ZymeAway has since been widely used throughout the United States (including Hawaii & Alaska) as the leading mold and flood water cleaner that is known to be completely safe to people, pets and our environment.
America's leading Home Improvement Radio & TV Talk Show host; Gary Sullivan, 55KRC in Cincinnati, Ohio has endorsed the ZymeAway enzyme formula since 2007. Thousands of his loyal listeners from all 50-States have emailed and telephoned regarding the safe and excellent cleaning power of ZymeAway.
It can now be said with assurance that our cleaning technology has advanced to the safest effective level ever… replace harsh toxic poison chemical cleaners now with ZymeAway.