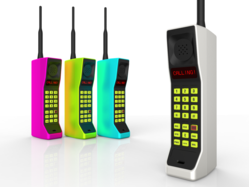 The Retro Brick Handset makes a fun statement as a house phone, office phone, or fashion accessory!
Jersey City, NJ (PRWEB) July 13, 2012
The mobile "Brick" phone was a symbol of status and success. This beloved 1980's icon was coveted by many but owned by few. It is now available to all. The Retro Brick is a wireless bluetooth handset styled as a 1980's "Brick" cellular phone. It pairs easily with all Iphones, Android phones, as well as all bluetooth enabled cell phones. The Retro Brick appeals to anyone who appreciates retro technology or making an amusing statement. It can be used as a house phone, office phone, or fashion accessory.
Great care was taken to recreate a classic for our modern times. The Retro Brick makes and receives calls in high quality digital audio. A backlit keypad allows users to place calls directly from the handset. The built-in speakerphone allows users to talk hands free. An 8 character alphanumeric LED display allows for easy menu navigation and an authentic look. Standing at an eye catching 13 inches tall, the Retro Brick is impressive on your desk, or a conversation starter when you use it walking down the street. It also weighs much lighter than the original and is comfortable to hold.
Available in four colors: Classic White, Neon Blue, Neon Green, and Hot Pink.
Available on Kickstarter for Pre-order now starting at 85 dollars. Visit http://www.kickstarter.com/projects/shisalabs/80s-retro-brick-bluetooth-handset for more information.
Specifications:
30Ft Range
Bluetooth 2.1+ EDR
Rechargeable Lithium Ion Battery
20 Hours of Talk Time
Shisa Labs (http://www.shisalabs.com) is a product development company founded in 2011. Our goal is to create innovative technology with clever design.