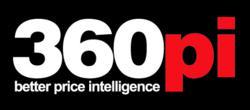 360pi levels the pricing playing field for retailers by giving them robust price intelligence to make more informed pricing and product mix decisions.
Ottawa, Canada (PRWEB) July 12, 2012
Gazaro announced today that, following a period of significant growth, which included the launch in 2011 of its industry-leading price intelligence offering and its adoption as the service of choice by numerous top North American retailers, the company has rebranded its B2B offering as 360pi, with "PI" being the company's focus: "Price Intelligence."
"Price transparency is the cause of significant turbulence among retailers," said Alexander Rink, CEO of 360pi. "As shoppers took the upper hand with mobile price comparison applications, we saw an opportunity to help level the pricing playing field for retailers by giving them robust price intelligence to make more informed pricing and product mix decisions. Our new name underscores our commitment to provide retailers with complete visibility and insight into the pricing landscape."
Two innovation centers have taken notice of the Price Intelligence advancements that 360pi has developed for its customers, and are providing both capital and expertise to support the company's rapid growth.
MaRS Discovery District (MaRS) works with partners to catalyze, accelerate and amplify innovation, supporting entrepreneurs building Canada's next generation of growth companies. Through its Investment Accelerator Fund (IAF), 360pi has received funding to drive commercialization and market expansion. "The IAF is thrilled to be investing in 360pi," said Lance Laking, IAF Investment Director, "We believe this company's technology platform sets a new standard for the delivery of competitive price intelligence data and related analytics for retailers."
360pi has also gained the attention and support of the Ontario Centres of Excellence's federally funded Centre for Commercialization of Research (CCR). CCR's mission is to support and accelerate the growth of early stage companies whose innovative products and technologies have stemmed from game-changing research between industry and academia.
"CCR's embedded executive program and syndicated investment has positioned 360pi to become a market leader in the category," said Dr. Mario Thomas, Managing Director of CCR, "We look forward to supporting 360pi in their efforts to become a global leader in retail price intelligence."
360pi's industry-leading and fully automated match and accuracy rates give retailers a complete, 360-degree view of the retail pricing landscape. This is made possible by the company's proprietary XFiRE technology, which is based on its cloud-based, Big Data platform and applies artificial intelligence to product and price matching. By virtue of its extensive database of over 1 billion price points and its rich analytical reporting engine, 360pi's customers are able to get access to better and quicker insights to drive revenue and profit margins.
To find out more about how 360pi can help your retail operation, visit http://www.360pi.com.
About 360pi
360pi is a global leader in cloud-based, retail price intelligence. 360pi uses patent-pending, Big Data artificial intelligence honed since 2008 to deliver better retail price intelligence, giving top retailers real-time visibility into their competitors' product and pricing activity. In tests, 360pi customers have increased unit and dollar sales by as much as 50-80%.
About Investment Accelerator Fund
MaRS Investment Accelerator Fund (IAF) (Twitter: @MaRSIAF) invests in qualified emerging companies in Ontario using an equity-type instrument. As a critical component of the Ontario Network of Excellence (ONE), the IAF supports the launch and development of innovative businesses in Ontario's priority sectors of advanced materials and manufacturing, information technology, cleantech and life sciences. The IAF is funded by the Government of Ontario and delivered by MaRS. For more information please visit http://www.marsdd.com/IAF.
About Ontario Centres of Excellence (OCE) Inc.
Ontario Centres of Excellence (OCE) Inc. (http://www.oce-ontario.org) drives the commercialization of cutting-edge research across key market sectors to build the economy of tomorrow and secure Ontario's global competitiveness. In doing this, OCE fosters the training and development of the next generation of innovators and entrepreneurs and is a key partner with Ontario's industry, universities, colleges, research hospitals, investors and governments. A champion of leading-edge technologies, best practices and research, Ontario Centres of Excellence invests in sectors such as advanced health, digital media and information communications, advanced manufacturing and materials, and cleantech including energy, environment and water. OCE through its Centre for Commercialization of Research (CCR), an initiative supported by the federal government, also acts as a catalyst which allows innovative businesses to grow and achieve sustainable commercial success and global competitiveness. Ontario Centres of Excellence is a key partner in delivering Ontario's Innovation Agenda as a member of the province's Ontario Network of Excellence (ONE). Funded by the Government of Ontario, the ONE is Ontario's innovation system. The ONE is made up of regional and sector focused organizations designed to help Ontario-based entrepreneurs rapidly grow their companies, and create jobs. For more information visit http://www.oneinnovation.ca.