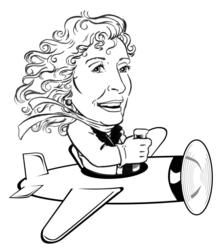 For a long time now I have tried simply to write the best I can. Sometimes I have good luck and write better than I can.~Ernest Hemingway
Tiburon, CA (PRWEB) July 17, 2012
Follow the signs from the 2012 San Francisco Book Festival honoring Lynn Cook Henriksen's guidebook as a "Best Books of Spring" winner in the how-to category. Discover the "10 Secrets at the Soul of Writing" on The Story Woman blog to become a better writer.
Whether writing fiction or nonfiction, the "10 Secrets at the Soul of Writing" are not to be taken lightly. Henriksen says the writing tips are simply the fundamentals of successful writing, although they often go unobserved.
From the list of 10 Secrets at the Soul of Writing, here is Secret # 8: Create Essential Energy: Life's energy is the springboard for all stories. A story written without enthusiastically adding the sparks of life isn't worth writing, much less reading. Bring forth the license of creative power to portray the essential energy of each character and event found worthy of putting down on paper. Use active character and event descriptions, rich details, passion, and emotion to pull the reader into each scene. Incorporating all five of the senses to create this vital energy promotes greater depth and range of story. All 10 Secrets can be found by a simple click.
A Stanford University grad wrote the following review: "Every writer should read this book, as its combination of the spiritual and the practical transcends other memoir writing guides. The gifted Lynn, a lyrical, perceptive writer and teacher, brings incisive advice and technique together with true stories for a carefully devised, matchless performance, in which the reader will play a major part. I wish I had read TellTale Souls years ago; it would have saved me a lot of trouble. It is a tour de force and bound to become a classic." —Ann Seymour, author of "I've Always Loved You: A True Story of WW2 in the Pacific Battlefields, in California, and in the Imperial Palace, Tokyo."
Lynn Cook Henriksen, aka The Story Woman, is the founder of "TellTale Souls," an enterprise promoting writing memoir creatively through workshops, classes, speaking presentations, and her new guidebook, "TellTale Souls Writing the Mother Memoir: How to Tap Memory and Write Your Story Capturing Character & Spirit." The book demystifies the writing process for people new to writing, and professional authors will encounter abundant food for thought and innovative techniques to get their creative juices flowing. As an intuitive leader, Henriksen discovered a profound way to keep spirits alive after witnessing Alzheimer's disease ravage her mother's mind. She has helped hundreds of daughters and sons capture in brief memoirs the memories and feeling they never thought they could record.
Contact:
Lynn Henriksen, Public Relations
TellTale Souls/The Story Woman
(415) 435.6000
publisher(at)indigoroadspress
http://www.telltalesouls.com __title__ TellTale Souls Writing]