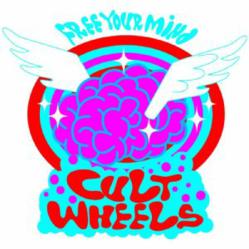 This is the first wheel I like so much that I rode them to the core. I'm on my 4th set and these won't be my last.
Annapolis, MD (PRWEB) July 12, 2012
Pure Board Shop is known for having the best and most diverse selection of longboard gear in the Annapolis Area. This is especially true with the newest shipment of Cult Wheels in at the shop. Cult has become a huge competitor in the freeride discipline of wheels and with the release of two new wheels in the past 6 months, they show no sign of slowing down. In at the shop from Cult are the Classics, the Converters and the brand new Isms.
The Cult Classics are Cult's original slide wheel. They feature the legendary Mystothane and are side set for optimum slip. The dimension of this wheel are 70mm tall with a 30mm contact patch. They are 80a. They also have huge rounded outer lips to reduce the chances of hooking back up mid slide. Once these wheels get sideways, they just don't stop. The newer slide wheel from Cult is the Converter. These feature a brand new urethane called the Slide-o-Matic. These wheels have the same shape, hub setting, and dimensions as the classic but are 85a. The new thane has been designed to slow down wear. The newest wheel from Cult are the Isms. They are essentially a mini Converter. They are poured using the same Slide-o-Matic thane and are also 85a. The dimensions are 63mm tall with a 29mm contact patch. They were designed for riders who ride longer street decks, mini boards, and top mounts with little clearance.
All of these new wheels from Cult are exceptional. They are designed to perform a task and they perform that task flawlessly. Once sideways these wheels will slide forever. Pure's own Ben Wasser says "This is the first wheel I like so much that I rode them to the core. I'm on my 4th set and these won't be my last. "
Pure Board Shop opened its doors on May of 2005. Its ease of access and parking make it a destination shop for riders and urban street ware fans alike. With their mix of products and variety in skate, snow, surf and exclusive streetwear and shoe brands Pure's customers extend far beyond their Annapolis location. Pure prides itself on making customer service its number one priority, with product knowledge and having the right product mix a close second. The store and the website feature an ever growing brand inventory such as Nike SB, Nike Snowboarding, Adidas Skateboarding, Vans, Diamond, HUF, LRG, RVCA and The Hundreds. The shop also prides itself on having the largest variety of longboard equipment in the area; with brands like Land Yachtz, Rayne, Caliber, Cult Wheels, Abec11 and many more. Pure puts on monthly skateboard jams/events in their local skateboard park as well as sponsors many longboard slide jams in the DC Metro Area.
Contact Pure at 410-267-7669 or visit them on the web at pureboardshop.com