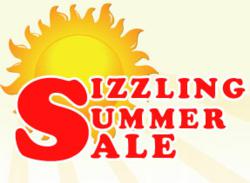 We are offering our valued customers the chance to take advantage of substantial savings...
Mahwah, NJ (PRWEB) July 17, 2012
Hertz Furniture, premier school, church and office furniture supplier, today announced a Sizzling Summer Sale beginning on July 10, 2012. The sale on nearly 100 items, including whiteboards, tables, bookcases, office desks, filing cabinets and more, runs until the end of August. This sale gives Hertz Furniture's valued customers an opportunity to save up to 64% on selected quality office furniture.
Visit the Hertz Sizzling Summer Sale to take advantage of this sale. One featured item is the Managerial L-Desk--part of the versatile Offices to Go™ collection. This sturdy and attractive desk is available in American Mahogany or American Cherry laminate and is 22% off its already low price with free shipping, too. Another practical item from this manufacturer is a sleek Presentation Board. The doors open for presentation and close between meetings for a rich, wood appearance. This is the perfect time to get this presentation board with superior construction at a reduced price of 22% off, along with free shipping.
"We are delighted to begin our Sizzling Summer Sale," said the company's president Saul Wagner. "We are offering our valued customers the chance to take advantage of substantial savings on quality furniture for their schools, offices or churches throughout the long hot summer."
About Hertz Furniture:
For over 45 years Hertz Furniture has supplied schools, religious institutions, businesses and government offices with top quality commercial furniture and superior customer service. Speedy Quotes, Quick Ship products, a wide selection of Eco-Friendly furniture, a free Project Planning and Design service and the best warranties in the industry are just a few of the ways that Hertz Furniture provides added value to its customers. For additional information on Hertz Furniture and its extensive line of products, please visit Hertz Furniture, speak to a furniture specialist at 888-802-6549, or send an email to amyhoffmann(at)hertzfurniture(dot)com.