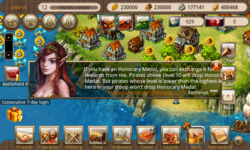 (PRWEB) July 16, 2012
The new version of Dragon Kingdom is on line! Since the release of online game Dragon Kingdom of Android, it has accumulated 1 million players from more than ten countries around the world. As a strategy game in the theme of western war with superior production, Dragon Kingdom has aroused heated debate at the beginning of its exposure relying on exquisite and delicate, as well as magnificent and real pictures. It has won the Best Strategy Game in China Tencent Mobile Terminal Game Development Contest 2012 (Tencent has the biggest SNS Game platform of the world). So far, three languages - Simplified Chinese, English, and Korean has been released, and versions of Japanese and Traditional Chinese are coming soon. Dragon Kingdom emphasizes and pays attention to players' cooperation, growth, and mutual confrontation on game experience, letting players be personally on the scene to feel the lofty sentiments and blandness for devising strategies within a command tent, striving for hegemony, as well as rewriting the history, thereby finally achieving the position of most powerful person!
Moreover, the legion that has attracted more and more attention from players makes heavy attack in this update, becoming a highlight issued by this new version, which will definitely attract more players to be crazy about it. The legion function of new version demonstrates the game features in the following five aspects:
1. In ancient times, the disputes were ceaseless. The open legion system makes players establish and join the legion in the game, so as to turn out in full force and challenge to battle in the name of justice.
2. The legion level can be upgraded through donation. If the level is higher, the number of players can be absorbed will increase, and legion will be more powerful.
3. After joining the legion, players can use the prayer hall system to get abundant rewards.
4. The legion ranking list is added, you can check the legion's ranking through the ranking list.
5. The legion gold vault is added, top 10 legions can have legion battle on every Saturday to snatch gold coins from other legion's gold vault.
Old players only need to update the game version, and new players need to download from Google play, then you can experience the pleasure of more excited game.
Please visit official website of the game for more information:http:// http://www.x6game.org
Please send suggestions and comments of the game to the game forum:http://www.x6game.org/forum
About X6 Game
X6 Game, one of the top mobile game developers in China which was founded in 2005, is dedicated to the development of mobile games.
70 titles of various genres have been released by X6 Game since the date of its foundation, including the famous strategic game Dragon Kingdom, the fantastic simulation game Movie Town and Kawaii family game Pet Life, which are global oriented. X6 Game has received several media awards in the last 7 years, which represent the common acceptance from both users and partners. The company is currently actively seeking a share in the global market.
Follow us at
Facebook: http://www.facebook.com/X6Game
Twitter:https://twitter.com/X6Game
Marketing&cooperation contact: marketing@x6game.org