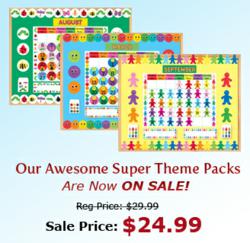 We designed these theme packs with young students in mind--to engage and inspire them on the road to learning.
Wallington, NJ (PRWEB) July 15, 2012
Hygloss Products, the leading source for craft supplies and teacher supplies, announced today a special promotion on Super Theme Packs. The company is offering a price reduction of 15% on this new product that is already getting rave reviews from teachers. From now until the end of July, Super Theme Packs will be offered in the Hygloss online store for just $24.99 each (reduced from their regular price of $29.99).
Each Super Theme Pack is a delightful combination of everything in the individual themed product line. Customers can choose from these upbeat themes: Bugs, Smiley Faces, and Rainbow People. The special price of $24.99 is substantially less than the cost of purchasing the items separately. Each pack contains 36 name plates for desks; 24 library pockets for bulletin boards and decoration; 30 accent shapes for teachers to use to decorate and accentuate the classroom; 36 feet of borders to use on bulletin boards; 1 calendar; 31 daily calendar cards; and 12 monthly calendar cards.
Hygloss features a wide variety of creative educational supplies and teacher supplies, including classroom kits--all designed to help teachers provide the best learning experience for their classes. Fall 2012 is the perfect time to try something new in the classroom. Teachers can use the Super Theme Packs to provide a consistent theme across the classroom, to brighten the it, and make the classroom a positive place.
Hygloss Products offers an extensive collection of creative and innovative products that are inspirational and affordable. The company is known all year-round for classroom essentials, craft supplies, educational supplies, craft kits, specialty paper, scrapbook supplies and many more arts and craft items for school and home.
"We designed these theme packs with young students in mind--to engage and inspire them on the road to learning," said Hygloss Products President Moshe Neurath. "The Super Theme Packs have been well-received since we introduced them several months ago. Teachers really appreciate the availability of a quick and attractive way to tie in a classroom theme."
About Hygloss Products:
Since 1950, Hygloss Products has offered innovative arts and crafts supplies to ignite creativity in children and adults. Teachers, parents and hobbyists alike enjoy the superior quality of Hygloss craft supplies, specialty paper and classroom essentials. Children's minds are ever expanding, and that's why the Hygloss product line is constantly being updated.
All Hygloss Products come with a money back satisfaction guarantee because we're not happy until you are. Give yourself a fabulous crafting experience with unique and exclusive supplies from Hygloss Products.
Hygloss Products
800-444-9456 .