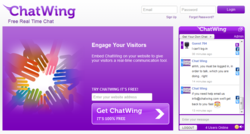 Virginia Beach, VA (PRWEB) July 12, 2012
Virginia Beach, VA – Professional blogging in Posterous will now be a notch easier with the help of Chatwing's latest shoutbox. This chat tool has been introduced in various online communities and is known for its reliability in terms of global connection. Many bloggers have also used it as a long-term visibility tool that can attract visitors from different parts of the world. Adding to that, the Chatwing tool also promises ease of access for all of its uses, whether they are bloggers or web surfers.
The Chatwing chat box has also helped a lot of bloggers in the Wordpress community because of its social media integration feature. Through this option, Chatwing users can have the opportunity to log in with their Facebook or Twitter accounts. This simply means that people can now expand their social networks to a certain degree. Based on global statistics, professional blogging requires a way of personal interaction with blog visitors. The Chatwing shout box, for most bloggers, serves as a stream of communication for bloggers and their visitors.
To ensure that the Chatwing app will remain reliable, the developers have introduced various backend developments. The latest version of Chatwing web chat tool has a user capacity of 600, but the team is planning to upgrade it to 1000. In this way, more people will be able to take advantage of Chatwing's communication leverage. This is useful, not only for professional Posterous bloggers, but also to those new ones as well.
The Chatwing team promises to deliver efficient communication service for all of their end users. This is possible by conducting different upgrades and maintenance checks over a continuous span of time—a reason why the developers of Chatwing work round the clock. Additionally, the dev team is also branching out to other blog communities to help more people understand the importance of website chat. The team also maintains a Facebook page so that users will know more information about the chat tool.
About Chatwing.com
Chatwing.com has developed live chat software for websites and blogs. It caters to different online communities due to its high rate of connectivity. Everyone can create a customizable live chat box feature in 1 minute or less. Users have the ability to customize the size, color, and fonts of the chat product. The ability to chat via social media accounts such as Facebook and Twitter enable Chatwing to offer a personal and unique real-time experience to all sites. Chatwing is 100% free and very easy to use.