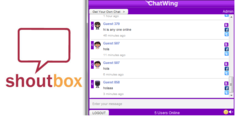 Cambridge, MA (PRWEB) July 13, 2012
The Chatwing development team is now branching out to Facebook chat with the help of a simple yet advanced application known as Lujure. Users can now use the Chatwing shoutbox by integrating Lujure to their Facebook pages. With a handy chat tool offered by Chatwing, a Facebook page can become visible amidst competition. In blogging communities, Chatwing has been known for its visibility and adaptability. The Chatwing chat tool is also easier to use compared to other known applications.
Facebook marketers and online entrepreneurs can benefit a lot from the Chatwing shout box. The application is very easy to use, and it can also be installed to different blogs and websites. Chatwing has been introduced in blogging communities such as Wordpress, Posterous, and Livejournal. The Chatwing app improves the visibility of a blog or website by turning it into an active chat lounge where people can discuss lots of things.
The Chatwing team has been looking forward to expand in Facebook, many months ago. When the developers saw the potential of Lujure, they stepped up. To use the Chatwing chat box in a Facebook page, a user just needs to determine which Facebook page is he going to use. After that, the user can put Chatwing as one of his widgets in the Lujure dashboard. Now, he can drag and drop the Chatwing chat tool in any Facebook page. In a simpler sense, Lujure serves as a navigator, while Chatwing is the desired outcome. Because of this start-up Facebook expansion, the Chatwing web chat tool is now gathering many positive reviews across the Internet.
The Chatwing team has foreseen that many people can benefit from the new Facebook live chat experience that they can discover. Moreover, people can also use the leverage offered by Lujure in order to try out other widgets as well. Chatwing's developers have set up a Facebook page in order to keep their users well-informed regarding new updates, expansions, and developments.
About Chatwing.com
Chatwing.com has developed live chat software for websites and blogs. It caters to different online communities due to its high rate of connectivity. Everyone can create a customizable live chat box feature in 1 minute or less. Users have the ability to customize the size, color, and fonts of the chat product. The ability to chat via social media accounts such as Facebook and Twitter enable Chatwing to offer a personal and unique real-time experience to all sites. Chatwing is 100% free and very easy to use.