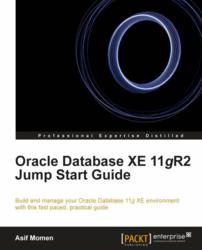 Includes clear step-by-step instructions and examples
Birmingham, United Kingdom (PRWEB) July 12, 2012
Packt is excited to announce the publication of Oracle Database XE 11gR2 Jump Start Guide, a fast paced and practical guide enabling readers to build and manage their Oracle Database 11g XE environment. With just 146 pages, this book is competitively priced at $14.39 for eBooks and $26.99 for print books.
About the Author:
Asif Momen - With over 12 years of experience in Oracle technologies, Asif also has an expertise in Database Architecture, Performance Tuning, and High Availability. He has a Master's degree in Software Systems from Birla Institute of Technology & Science (BITS), Pilani and was honored by the prestigious Oracle ACE award from Oracle Technology Network. He has the following certifications:
OCP 11g DBA
OCP 9i Forms Developer
Oracle Certified Expert in RAC 10g
After reading this book, readers will be able to set up local and remote database connections and resize Oracle SGA alongwith creating and managing database objects like tables, indexes, constraints, views, sequences, and synonyms. With clear step-by-step instructions and examples, this guide will help the reader develop PL/SQL stored subprograms.
With an understanding of Oracle logical and physical components such as SGA, PGA, Tablespaces, and Flash Recovery Area, readers will be able to move data between different Oracle Database XE versions. They wil be able to create rich and responsive applications using Oracle Application Express as well as protect and recover their database.
Packt Publishing has published and is due to publish other Oracle Database books, and some of the recent titles include:
Oracle Information Integration, Migration, and Consolidation
OCA Oracle Database 11g: SQL Fundamentals I: A Real World Certification Guide (1ZO-051)
Oracle 10g/11g Data and Database Management Utilities
Oracle Database 11g – Underground Advice for Database Administrators
Mastering Oracle Scheduler in Oracle 11g Databases
All Oracle books are Published by Packt Enterprise. Packt Enterprise is a publishing division of Packt Publishing designed to serve the information needs of IT Professionals in the Enterprise space. Packt Enterprise also publishes on Microsoft, IBM, Oracle, Citrix, Java, Amazon, Google and SAP technologies.