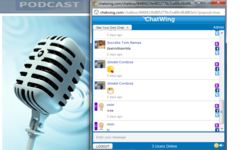 Boston, MA (PRWEB) July 12, 2012
Podcast blogs are now sweeping the Internet, loaded with new music interests to choose from. This is based on global Internet statistics and the data gathered by the Chatwing development team. This fact is important because the Chatwing team just released a global chat box that can help bloggers and web surfers enjoy podcasting at a greater rate. The Chatwing tool provides a stream of communication for everyone and it can also be installed easily to any blog or website.
One of the best features that have been offered by Chatwing is the social media integration option. Through this, Chatwing users can now log in with their Facebook or Twitter accounts. The Chatwing shoutbox can also liven up any blog due to its versatility when it comes to topics. In a single Chatwing tool, guests and visitors can talk about different topics. This will increase the visibility of the blog and allow the blogger to interact with their visitors. Furthermore, the Chatwing shout box can also accommodate up to 600 users in real-time.
Aside from podcast blogs, the Chatwing team has also expanded in various communities such as Windows Live Spaces, Livejournal, and Posterous. Bloggers gave mostly positive reviews regarding the web chat tool. One of the factors the bloggers loved about the Chatwing tool is the ease of access. Installation of the chat tool takes only few seconds, and it features a high rate of customization. Users can now synchronize the widget to the appearance of their blogs.
Aside from avid podcast listeners, the Chatwing team intends to deliver the efficiency of website chat to everyone in the Internet. The developers believe that proper communication leverage can be achieved in the Internet with diligence, hard work, and an efficient marketing strategy. To spread information, the Chatwing team also maintains a Facebook page and blog filled with interesting content.
About Chatwing.com
Chatwing.com has developed live chat software for websites and blogs. It caters to different online communities due to its high rate of connectivity. Everyone can create a customizable live chat box feature in 1 minute or less. Users have the ability to customize the size, color, and fonts of the chat product. The ability to chat via social media accounts such as Facebook and Twitter enable Chatwing to offer a personal and unique real-time experience to all sites. Chatwing is 100% free and very easy to use.