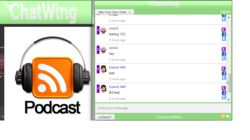 Seattle, WA (PRWEB) July 14, 2012
MP3 downloads are now as common as Google and Alexa search queries all over the Internet. This is based on the numbers of websites created for the sole purpose of MP3 downloading and podcasting. Chatwing's developers were always keen on this fact. This is why they recently introduced a shout box that can help podcast fans find the best music interests that they can listen to. Aside from that, Chatwing's developers have found out that listening to music while chatting to others can create bursts of enjoyment for everyone.
MP3 listeners can take advantage of the communication leverage offered by the Chatwing chat box by chatting to others regularly. Not only they can find links to their music interests, but they can also find new friends. Additionally, Podcast bloggers can also interact with their visitors and have a great chance to expand their social networks. The Chatwing shout box has also a user capacity of 600, heightening the chance of global connection by more than fifty percent.
Back then, the Chatwing team has encountered a steep climb in terms of online ranking. To deal with this, Chatwing's developers have worked round the clock in tweaking the chat platform. The effort has paid off after few months, making the Chatwing web chat tool popular in many blogging communities and forums. Many bloggers have also benefited a lot from Chatwing's social media integration. With this option, Chatwing users can log in with their respective Facebook or Twitter accounts. This is the reason why many Facebook group makers have used the Chatwing tool when it comes to finding more contacts.
The Chatwing team will always ensure that podcast fans and MP3 listeners will get the proper global leverage that they need. The team will also empower the premise of website chat to support more blogs and websites. Other than that, the team is also targeting people from other prominent communities. This simply proves that the Chatwing application is built for any topic or discussion across the Internet.
About Chatwing.com
Chatwing.com has developed live chat software for websites and blogs. It caters to different online communities due to its high rate of connectivity. Everyone can create a customizable live chat box feature in 1 minute or less. Users have the ability to customize the size, color, and fonts of the chat product. The ability to http://ww w.chatwing.com [chat live __title__ chat live] via social media accounts such as Facebook and Twitter enable Chatwing to offer a personal and unique real-time experience to all sites. Chatwing is 100% free and very easy to use.