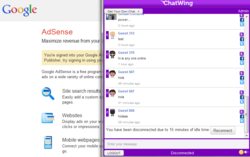 Los Angeles, CA (PRWEB) July 15, 2012
Many people are now looking forward to monetize their blogs through the famous and infamous Google Adsense. According to Internet statistics, beginners are now flocking the blogging industry, hoping to get approvals from Google Adsense. The Chatwing research team has concluded a thorough research and realized that a lot of these beginners are not getting the proper visibility that they need. To deal with this dilemma, the Chatwing team has recently launched a shoutbox in prominent blogging communities such as Wordpress, Posterous, Livvejournal, Windows Live Spaces, and Blogspot.
The Chatwing chat box is known in the blogosphere for its high rate of global connectivity. Adding to that, it has a social media integration feature wherein users can log in with their Facebook and Twitter accounts. This allows a user to expand his social network to a certain degree. Aside from interesting content, an active web chat tool can help a blogger reap profits from Google Adsense. True—it may take a long chunk of time to make formidable income, but Chatwing assures high spikes of visibility as long as the blog contains interesting content.
Chatwing has offered a way to monetize a blog, few months ago. However, the dev team has taken it down so that the chat platform will run faster and accommodate more people from various communities. After a couple of platform tweaks, the Chatwing http://ww w.chatwing.com [shout box __title__ shout box] has managed to accommodate up to 600 users in real time. The team, however, is planning to upgrade it to 1000 so that more users will be able to take advantage of Chatwing's communication effectiveness.
The developers of Chatwing are always looking forward to help bloggers all over the world, especially those who want to make decent income through Google Adsense. By empowering the premise of website chat, the Chatwing tool can raise the visibility of any blog. This may take time, but it is a wiser move rather than have users pay for external advertising campaigns.
About Chatwing.com
Chatwing.com has developed live chat software for websites and blogs. It caters to different online communities due to its high rate of connectivity. Everyone can create a customizable live chat box feature in 1 minute or less. Users have the ability to customize the size, color, and fonts of the chat product. The ability to chat via social media accounts such as Facebook and Twitter enable Chatwing to offer a personal and unique real-time experience to all sites. Chatwing is 100% free and very easy to use.