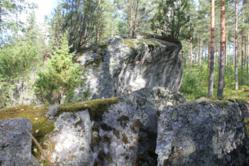 "Kerilandia is a truly amazing place full of memorable moments - the magical feeling in quiet and serene surrounding, fresh and energizing air, ancient stories that you learn about the place, and so much more,"
(PRWEB) July 16, 2012
Kerilandia is an area of rich natural beauty in exotic Eastern Finland, near the town of Kerimäki. Everyone can become a land owner of this magical area by purchasing a share of Kerilandia for as low as $499. As a proof of the purchase buyer receives a well prepared package of important items for a land owner: a beautiful share certificate to hang on a wall, land sample of the plot, information about Kerilandia and Finland and of course all the official papers to prove the legal ownership of the land.
"Kerilandia is a truly amazing place full of memorable moments - the magical feeling in quiet and serene surrounding, fresh and energizing air, ancient stories that you learn about the place, and so much more," describes the land manager of Kerilandia Mikko Nurminen.
Also the mayer of Kerimäki - the town where Kerilandia is situated at - is thrilled about the project. "It sounds like an exciting and innovative initiative. We have many valuable attractions in the region, so new landowners are warmly welcome," invited mayor Kari Rannanpiha.
"Why would anyone own a land such as Kerilandia? Because it must be one of the most unusual and exciting opportunities in the whole world!" continues Nurminen. The first owners have been curious people from all over the world. They were looking for a different gift for themselves or a person close to them. Some of them have been to Finland and purchased the land as a slightly different kind of a souvenir, whereas some others have never been to the country, but would love to visit it one day.
For example, Junji Nakamura from Japan tells about how he found Kerilandia: "I and my wife are true fans of Finland. We've visited Finland several times and we love the Finnish nature. We accidentally discovered Kerilandia and instantly thought of buying up a part of Finland. We are now making plans for a trip to Kerilandia with our two children."
Kerilandia has already attracted new land owners from several countries and the world conquer continues. The goal is to have landowners from as many different corners of the world as possible to make it truly the most international piece of land on Earth.
More information and purchases:
http://www.kerilandia.com
(in English, Spanish, Portuguese, German, Japanese, Chinese, Russia, Finnish and French)
Contact information:
Mikko Nurminen
mikko(at)kerilandia(dot)com
+358 40 701 3135