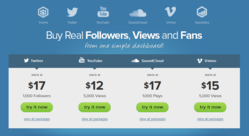 Ottawa, ON (PRWEB) July 12, 2012
Buy Real Marketing, a world provider of web 2.0 applications, reveals the four lucky winners of the Facebook fans contest, giving 500real Facebook fans to each of their fan pages. The company launched the Facebook contest on July 05, 2012 in line with their promise of giving back for the continuous patronage and support they receive.
The four winners are Robert Silver, KillTheMusic, Scott Kalechstein Grace and Rebeka Bryan. They were chosen randomly through a lucky draw from among 162 entries vying for the chance to get hold of the 500 Facebook fans. Now they have additional people as audiences, to engage, build strong relationship with and target on their promotional campaigns.
"Helping businesses grow, providing leverage to marketers and giving users the most remarkable online marketing experience remains to be our goal ever since we decided to establish the company and tap the social media market. Contests help us realize those in small but significant measures," discloses Business Development - Managing Director, Jonathan Kennedy.
The 500 Facebook Fans contest is the fourth offering that Buy Real Marketing held in the first quarter of the year 2012. The company hints at holding more upcoming contests as they continue giving value not only to their clients but also to avid social media enthusiasts.
Buy Real Marketing is the leading provider of Facebook fans, Twitter followers, YouTube views, SoundCloud plays and Vimeo views. Customer support is available 24/7 and provides services with a 100% Money Back Guarantee, which time and again proves their mantra of giving only the best quality to offer clients.
To know more about the company's services, visit their website at http://www.buyrealmarketing.com or contact them at 1-877-435-5955.
About
Buy Real Marketing is owned by Clicking Labs. Clicking Labs is a well established internet marketing company founded in 2010 by Jean-Patrick Bisson, Diana Quartin and Jonathan Kennedy. The company specializes in driving search marketing and social media traffic, social web app development and conversion optimization. Each product or service specifically helps small/medium website owners increase online visibility and improve online sales.