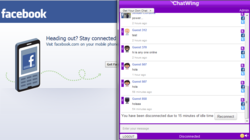 Omaha, NE (PRWEB) July 14, 2012
Facebook users will now be able to use the communication potential of the latest version of the Chatwing shoutbox. This new chat tool has a social media integration feature so that users can expand their social networks with ease. Adding to that, the Chatwing team has branched out to the Facebook community, emphasizing the importance of the chat tool in terms of online marketing and meeting new people. The Chatwing chat app has also been introduced in various blogging communities such as Wordpress and Posterous.
The Chatwing chat box has been built to help bloggers gain the visibility they need. However, the online effects have exceeded the expectations of Chatwing's developers. The Chatwing tool is now on a grander scale, covering different topics and helping many people pull out needed information from the Internet. Facebook group makers can also use the Chatwing application to find more members for their groups, or spread information in a fast and timely manner.
A lot of Facebook gamers who maintain blogs have also used the Chatwing shout box for communication purposes. Through the Chatwing app, they can now find more friends whom they can invite for their games. To accommodate the influx of more Facebook users and bloggers, the Chatwing team is planning to have various upgrades and developments. This will ensure that the Chatwing app will run smoothly, eliminating technical glitches.
The Chatwing dev team is dedicated to the sole purpose of better online communication. The developers are also intent on helping Facebook users gain online leverage by keeping the Chatwing web chat tool intact. Additionally, the team is also maintaining a blog filled with informational and entertaining content. Unlike other provider of chatrooms, Chatwing will go in-depth and will conduct more research to ensure that customer satisfaction will always be achieved.
About Chatwing.com
Chatwing.com has developed live chat software for websites and blogs. It caters to different online communities due to its high rate of connectivity. Everyone can create a customizable live chat box feature in 1 minute or less. Users have the ability to customize the size, color, and fonts of the chat product. The ability to chat via social media accounts such as Facebook and Twitter enable Chatwing to offer a personal and unique real-time experience to all sites. Chatwing is 100% free and very easy to use.