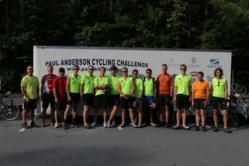 (PRWEB) July 19, 2012
Six teenagers from the Paul Anderson Youth Home (PAYH) will complete a 550-mile bike ride through the Southeast this summer, but finishing the cycling challenge is just one of their goals. They hope to make parents more aware of the struggles youth face every day through a campaign called familySTRONG, a proactive parenting movement that challenges parents to "make parent a verb." In addition to bringing awareness of the dangerous trends facing today's youth, the group is raising funds to support the ongoing rehabilitative work at the Paul Anderson Youth Home. Drew Read, C.O.O. and rider, says, "One of the most rewarding facets of the annual bike ride is seeing many young men accomplish something they never thought possible. This gives them a context for hope, and I have seen these events help a struggling young man turn a corner toward positive change."
The tour will hit the road on July 28 and make stops in several cities, including Savannah, GA and Jacksonville, FL, before returning to Vidalia, GA on August 3. In addition to cycling up to 100 miles a day, the team will be speaking on current and projected youth trends and provide blogs, stories, and videos along the way. To meet the riders, register to win a free bike, or support the PACC go to http://www.payhbikeride.com. The website will also allow you to follow the riders progress each day of the challenge, check the rider's blog, and view the daily videos.
Participants in the ride will include six youth, three PAYH staff, three volunteers, and several additional riders. Dillon, 19, one of the young men who will complete the cycling challenge, says, "I consider it a privilege to ride as part of this team and be able to speak as a representative of my generation. I've received a lot of help for the problems in my life, and helping to raise funds and awareness of the issues youth face is a great way for me to give back."
Since 1961 the PAYH has provided an alternative to incarceration and a "home" to over 1200 young men while nurturing and encouraging their families. The PAYH continues to shape young men of character and launch them back into society with 90 percent of graduates never seeing the inside of a jail cell again. As part of the rehabilitation process, PAYH offers opportunities for young men to participate in events such as the Paul Anderson Cycling Challenge. This 550-mile awareness and fundraising bike ride throughout the Southeast teaches perseverance, discipline, teamwork, and endurance.
"I think it's pretty cool to do this long a ride, to take on a challenge this big," says 18-year-old Paris, one of the other riders. "When we finish the ride, I'm going to be able to look back on this as a huge accomplishment in my life."
Inspiring youth to tackle significant challenges is just one aspect of the rehabilitative work done by the Paul Anderson Youth Home. Through their research, the PAYH staff is able to identify the dangerous trends on the horizon that will affect today's children and youth. Although more than 90,000 teenagers are incarcerated each night in the U.S. and children are starting to use drugs as early as elementary school, many parents believe their families are exempt from these dangerous trends. Paul Anderson Ministries offers resources and information to help parents spot warning signs, develop authentic relationships with their children and ask for help when the need arises.