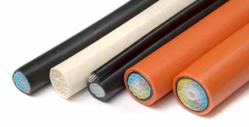 "As we continue to expand globally it was important that we chose a partner that we could trust to support our ambitions." - Graham Redpath, Senior Project Manager, Emtelle
Nottingham, United Kingdom (PRWEB UK) 13 July 2012
Columbus has entered into an agreement with Emtelle to support the replacement of their current systems with a fully integrated ERP system based on Microsoft Dynamics AX 2012.
The implementation forms part of Emtelle's goal to maintain its position as world-leading innovators in air-blown fibre technology and ducted network solutions.
The new ERP solution replaces aging ERP software to provide one seamless system for managing activities across the organisation, including: shop floor data capture, production and planning, logistics, purchasing, sales, financials and reporting.
"The solution we've agreed will allow for much clearer visibility across the business as well as provide the flexibility needed to ensure Emtelle remain at the forefront of innovation. The modern user-friendly platform will allow them to drive scale and streamline operations by aligning processes across the organisation," says Country Manager, Mary Hunter, Columbus UK.
Emtelle's solutions are used in many high-bandwidth applications, serving a broad portfolio of industries including Telecoms and Power, as well as in Geothermal applications.
"As we continue to expand globally it was important that we chose a partner that we could trust to support our ambitions. The solution from Columbus will help Emtelle build on its world-class levels of customer service and manufacturing," says Senior Project Manager, Graham Redpath, Emtelle.
Columbus is one of the world's leading suppliers of business solutions to the manufacturing sector and the agreement with Emtelle follows a string of sector wins. "We have a clear strategic focus in building targeted solutions to the manufacturing sector, and our ambition is to become the leading solution provider in this area. This agreement is a testament to our focus and commitment on providing world leading solutions to the manufacturing sector", says CEO Thomas Honoré, Columbus.
About Emtelle
The history of Emtelle and the history of telecommunications display strong parallels; as the influence of telecommunications spread worldwide. Emtelle responded by expanding their global operations with offices worldwide and production locations in the UK, Denmark and India.
For over twenty years, the world of telecommunication has inspired Emtelle to create innovative technologies products and business practices. Emtelle are committed to maintaining robust relationships with their customers far into the future and maintain compliance through accreditations, including ISO 9001, ISO 14001, OHSAS 18001 and PAS 99. Emtelle's Corporate Social Responsibility policy details the company's ethical responsibilities in all its activities.
For more information visit http://www.emtelle.com