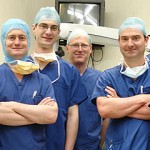 London, UK (PRWEB) July 14, 2012
Brain-surgery.com is pleased to announce that their website is now back online after a short period of downtime for maintenance and a change of layout. The site came back online on July 7th 2012 and aims to be a complete source of information for a wide range of conditions and offer support to both patients and their carers'.
Thousands of people undergo brain surgery operations in the UK each year and finding a source of information they can trust and understand is often just one of the problems they face. People visiting the site can now find a wide range of information on topics such as stroke/brain attack, benign and malignant tumours as well as brain and spine operations. All information is written in an easy to understand manner that explains the complexities of various conditions without resorting to impenetrable medical speak that only a neurosurgeon could understand. Recent posts on the website include 'Awake' Brain Surgery: It's possible and Effective! and Can Your Personality Change after Brain Surgery- Absorb Information From A To Z.
The popular forum that offers help and support for general brain surgery and specific conditions has also been overhauled. The forum is widely used by both patients and the people that care for them and is a valuable source of support and information.
The Brain-surgery.com website features a number of articles and posts devoted to brain surgery and the various conditions that require surgical intervention. Its aim is to provide information about brain surgery and what patients can expect before, during and after the procedure in a simple to understand and jargon free way. It is vital that patients about to undergo brain surgery and their carers' have a source of information they can understand clearly and Brain-surgery.com aims to give all of its visitors this information.