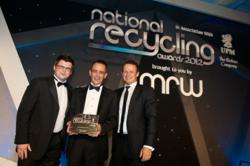 United Kingdom (PRWEB UK) 16 July 2012
Employees at PHS Datashred are celebrating after picking up the award for 'Fleet Initiative of the Year' at the National Recycling Awards. The prestigious event was held at the Lancaster London Hotel.
PHS Datashred nominated its scheme 'PHS Footsteps' which allows the company to monitor, and set targets to reduce, its environmental impact and operates alongside the Health, Safety and Environmental policies already in place. The scheme which focuses on reducing fuel consumption has made annual saving of nearly 350,000 litres. Two main technological features have been implemented as part of the PHS Footsteps scheme and have been central to its success.
Firstly, the introduction of the Masteraunt vehicle tracking system, which records the movements of all vehicles in PHS Datashred's fleet. This system has enabled PHS Datashred to identify key areas for improvement, and reduce the inefficiency of those journeys where, for example, the number of miles travelled per job is excessive. The introduction of Secure Automated Vehicles (SAVs) in high usages areas has already seen a significant reduction in fuel consumption by 5%.
Ian Walsh, PHS Datashred National Transport Operations Manager, collected the award and said: "We are thrilled our initiative has been so highly commended at the National Recycling Awards. The introduction of SAVs has not only been environmentally beneficial, but has also allowed us to offer a more efficient service to our customers. The vehicles can carry three operatives as well as the driver, which enables fast and efficient servicing, and also less idling time during collections, particularly for the high density areas such as the City of London, where large quantities of confidential material is collected in bulk."
The second technological feature is the ability for drivers to get immediate feedback on a non-distracting red-yellow-green LED system which reflects data from sensors specifically designed to detect risky manoeuvres. The aim of these sensors is to encourage drivers to think about, and adjust their driving style accordingly. The results, improved road safety and facilitated a reduction in fuel consumption. PHS Datashred became one of the first participants in Transport for London's Freight Operators Recognition Scheme (FORS) to deploy the GreenRoad Service.
PHS Datashred has achieved excellent results across all areas of its sustainability drive over the past couple of years and the National Recycling Award is a testament to its success and dedication to making sustainable improvements.