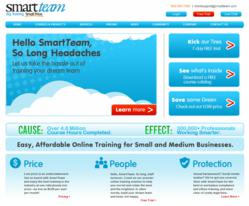 "With this new feature, we're making it even easier for managers to bring in and train new employees." – Scott Roan, VP of IT for SmartTeam
Tampa, FL (PRWEB) July 17, 2012
SmartTeam.com, the simple, affordable online training solution built just for small and medium businesses, recently enhanced its web-based learning and performance engine to include an innovative new feature designed to simplify staff training and education: Self-service Course Launch.
The Self-service Course Launch feature allows managers to quickly and easily upload custom content and create their own courses and custom exams using internally created materials—including handouts, recorded webinars, WebEx meetings, PowerPoint presentations, and more. With the Self-service Course Launch feature, staff education managers are now able to:

Create a Custom Course: Upload custom content to the SmartTeam Learning and Performance Engine to create specialized courses for staff members.
Create a Custom Course Package: Create specialized certificate packages to support career path development, and schedule automatic assignments for new and existing users.
"Giving companies the ability to quickly and easily upload, assign and track training is crucial to their success," says Scott Roan, VP of Information Technology for SmartTeam. "With this new feature, we're making it even easier for managers to bring in and train new employees about specific policies and procedures, as well as ensure mandatory training needs are met for all staff members. It has always been important for us to provide the best online training solution in the industry, and innovative enhancements like these help us achieve that goal."
The Self-service Course Launch feature is now fully integrated into SmartTeam's award-winning Learning and Performance Engine and will streamline training for staff education managers to provide consistent company-wide training, improve employee retention, manage risk, and increase profitability.
About SmartTeam
SmartTeam provides a convenient, affordable and fully hosted online training solution for small to medium businesses. A division of online education leader VectorLearning and headquartered in Tampa, Florida, SmartTeam provides more than 75 expert-authored professional skills training and compliance courses through a user-friendly Learning and Performance Engine to facilitate enrollment, completion and tracking. SmartTeam offers live support seven days a week, as well as a broad range of features and administrative tools. For further information call 866-565-7465 or visit http://www.SmartTeam.com.