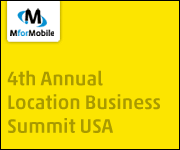 With forecasts for LBS in the billions, in order to profit and remain competitive, it is crucial that companies forge the right partnerships and keep themselves informed to keep ahead of the curve - that is what the Location Business Summit will provide
San Jose, San Francisco (PRWEB) July 16, 2012
Pyramid Research is now forecasting that location-based advertising alone will be worth $6.2 billion within the next three years – and account for almost 35% of total mobile advertising revenue. In light of this, many companies are changing their strategies in order exploit the huge increase in LBS usage. Not surprisingly, location based advertising is geared to be a hot topic at The Location Business Summit USA, with a variety of technologies, business models and marketing strategies being intensely debated.
Indoor location is another much publicized technology which companies are eager to exploit. With the indoors finally opening up for location services, Google and Microsoft already mapping venues, and Apple positioned to enter this space, this is being touted as the next billion dollar industry.
With location now ubiquitous, handset penetration at an all-time high, and location capable tablets now on the market, many within the industry are saying that the opportunities to create revenue have never been greater. Over two days, the Summit will focus on what is necessary to navigate a successful path through turbulence, privacy issues, fragmentation and other barriers to success.
As one of the biggest location events in North America, The Location Business Summit is all about how companies can engage customers, and potential customers, maximize their exposure, and increase their business revenue.
This year the Summit has placed a massive emphasis on brands, with a series of LBS case studies on the agenda, showing how LBS can be implemented, and discussing the challenges – all from a brand perspective. Brands listed to present so far include Cinnabon, Big 5 Sporting Goods, Time Out North America, Caesars, The Ritz Carlton. This is on top of speakers from Yelp, Google, AT&T, BMW, General Motors among many others.
Event Director, Aoife Gaffney, VP of M For Mobile, outlined what the conference would provide in a recent interview. "After many years of talk, location based services are finally being taken seriously, and this means we are seeing money being spent by brands trying to connect with their consumers. With forecasts for the location industry in the billions, in order to profit and remain competitive, it is crucial that companies forge the right partnerships and keep themselves informed to keep ahead of the curve - that is what the Location Business Summit will allow them to do.'"
More information on the 4th Location Business Summit USA can be found at: http://bit.ly/M4RD0o