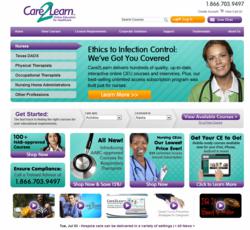 "This video series is another example of high-quality, media-rich courses that meet the needs of our students who prefer to learn in an audio/visual format." - Matt Casey, PhD, VP of Content for Care2Learn
Tampa, FL (PRWEB) July 13, 2012
Care2Learn.com, the leading provider of best-in-class online education, compliance training and record-keeping solutions for the senior care industry, recently added 25 new video-based courses to its web-based healthcare eLearning library. The courses were developed specifically for frontline caregivers including CNAs.
"At Care2Learn we strive to deliver engaging, highly relevant content in multiple formats to accommodate all learning styles," says Matt Casey, PhD, Vice President of Content for Care2Learn. "This video series is another example of high-quality, media-rich courses that meet the needs of our students who prefer to learn in an audio/visual format. Best of all, it is part of our industry-leading mobile-compatible offering that allows learners to take or review courses without relying on a desktop computer."
The courses feature live video footage filmed in actual senior care settings to immerse students in the learning process and provide critical education on key topics such as dementia care, fall prevention, elder abuse and neglect, pressure ulcers, practicing person-centered care, and more. Of the 25 courses created, 22 are currently available. The remaining three—Infection Prevention and Control, Assessment & Management of Pain, and Medications in the Elderly including Psychotropics—will be available soon.
About Care2Learn
Care2Learn delivers best-in-class online education, compliance training and record-keeping solutions for the senior care industry and holds more than 70 state and national accreditations. Through our award-winning healthcare Learning and Performance Engine we offer individual courses as well as large-scale corporate training solutions for healthcare organizations featuring customizable and easily accessible online universities with a full range of tracking and reporting features. With an online library exceeding 500 courses authored by more than 300 subject matter experts, Care2Learn serves more than 300,000 healthcare professionals in all 50 states. Founded in 2000 and acquired in 2007 by eLearning provider VectorLearning, Care2Learn is headquartered in Tampa, Florida and is the recipient of numerous community honors and industry rewards. For further information, visit http://www.Care2Learn.com or http://www.Care2LearnEnterprise.com.