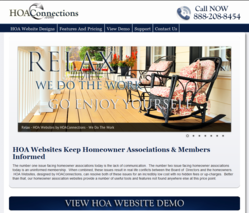 Now customers are greeted with an elegant, modern interface that helps layout the message of what HOAConnections offers...
Asheville, NC (PRWEB) July 13, 2012
When HOAConnections started in Summer 2011, the focus was on designing a hoa website platform that not only provided more functionality than its competitors, but did it at a price that made it an industry leader. The company backed their product up with customer support that wowed their early adopters. However, after receiving customer feedback, they realized that where their hoa websites were a runaway hit their own company website was, "frankly a dud," according to HOAConnections president, Brian Barrett. While the wealth of information about their hoa websites was clearly present, the presentation and lack of a cohesive design left their prospective customers confused about the advantages their hoa websites could provide to a homeowner association.
In response, HOAConnections set out to retool the message by completely overhauling the look and feel of http://www.hoaconnections.com. In the process, they honed the message from a running list of options that splayed itself across the consumer's screen like a free form rambling of thoughts to a cohesive well thought out and targeted tool. Now customers are greeted with an elegant, modern interface that helps layout the message of what HOAConnections offers; an easy to use, intuitive, feature rich platform that finally provides a cost effective solution for homeowner associations desiring to communicate better with their homeowners. Through a new graphic interface, it is easier than ever to discover how simple it is to design an association's hoa website. The consumer can now breeze over the hoa website template choices, see a live demo of a hoa website or view a sampling of current customer's hoa websites, with no problem. Still in the development phase is a new and improved customer support section that will provide detailed, self help videos of the most important functions of the hoa websites. Not to mention the introduction of the Join Me conferencing software, furthering the company's commitment to being an industry leader in customer support.
If you have been to HOAConnections in the past and felt overwhelmed by the company's message, or underwhelmed, whatever the case may be. Your homeowner association owes it to themselves to have another look. Click over to http://www.hoaconnections.com and have a look. The company is quite sure you'll like what you see.