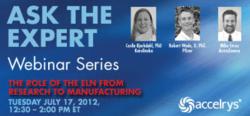 ELN is one of the fastest growing software investments in today's laboratories.
Midland, ON (PRWEB) July 12, 2012
ELN Overview:
With over 150,000 active Electronic Lab Notebook (ELN) users worldwide, the ELN is one of the fastest growing software investments in today's laboratories.
Organizations of all sizes and types using ELNs report improved productivity, IP protection and collaboration, demonstrating that ELNs are a beneficial investment for scientists, analysts or engineers using paper notebooks. The requirements and value of an ELN vary based on your role in the research-to-manufacturing continuum—from free-form ideation in research to rigid, highly automated, locked-down procedure execution in Quality Assurance and Quality Control (QA/QC).
Some of the Benefits:

Research labs use flexible, easy-to-use and low-cost ELNs to replace inefficient paper notebooks
Development labs use highly integrated ELNs with domain-specific capabilities to support process efficiency and compliance
QA/QC labs reduce compliance risk and accelerate review cycles through automated and integrated lab execution processes
To take advantage of this FREE webinar and expert's advice, click here: Register Now!
Who should attend?
This webinar is designed for lab managers, directors, scientists, analysts and engineers interested in replacing their existing paper notebook and wishing to develop an understanding about:

Which type of ELN is best for their environment
The benefits of using an ELN
Key capabilities essential for their scientific area
Agenda:
This session is slated for 90 minutes and will be broken down into a 60-minute presentation with a 30-minute open forum for a live Q & A, all using the GoToWebinar platform. After the session, all attendees will receive links to the presentation materials posted on LabManager.com.
The Experts:
Project Manager, Karolinska Institutet
Cecilia manages the research documentation project, which includes an ELN implementation to over 1,000 researchers.
Research Fellow, Pfizer Global R&D
Robert leads the deployment and customization of the Accelrys ELN, the Waters NuGenesis SDMS, and the data capture effort within the Pharmaceutical Sciences division.
Global QC Systems Owner, AstraZeneca
Mike leads AstraZeneca's global projects team to deploy LIMS, CDS and eLab across the operations sites.
When: Tuesday July 17, 2012
Where: Live Web Event via GoToWebinar Platform; a link will be provided after free registration at: Register Now!
Time: 12:30pm to 2:00pm EDT
Follow Us:
Facebook: http://www.facebook.com/labmanager
Twitter: http://www.twitter.com/LabManager
LinkedIn http://www.linkedin.com/groups/Lab-Manager-Magazine-2531919
About Lab Manager Magazine
Lab Manager Magazine delivers practical business and technology insights to today's lab professionals with more relevant management, financial, and purchasing information than any other industry publication. Our writers, including chemistry and biology Ph.D.s with lab management experience, know the market and know the challenges facing today's research professional. Everyone generates content. Lab Manager Magazine provides intelligence. That's why a growing number of lab professionals turn to Lab Manager Magazine to stay abreast of the latest technology developments, applications, comparisons, and analyses, as well as business and industry trends.