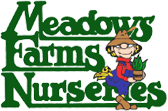 Richmond VA (PRWEB) July 14, 2012
Meadows Farms Nurseries in Maryland, Virginia, and West Virginia had its first ever Pink Day event on June 23rd, 2012 at all 23 of its locations. The managers were in charge of creating a festive atmosphere, and were supported by corporate headquarters on their efforts. This was a three pronged attempt at bringing donations in: from customers, from suppliers, and from Meadows Farms. There was a "Pink" presence everywhere.
The locations had pink balloons, pennants, plants and decorations galore. There were silent auctions at each location and a companywide raffle for a $500 gift card. There were bands playing, dunking booths, pony rides, pink attire, moon bounces, outside food venders helping support the cause, autograph signings, and much more. The silent auctions were a great success, due to the generosity of many other local business donating items along with the plants and other items from Meadows Farms. There were contests for the nursery that raised the most in donations and for the nursery that created the most festive atmosphere. This was won by the Golf Course location and the Manassas store respectively and an additional $500 will be donated to the cause from Meadows Farms Nurseries in these two locations names.
Company President Jay Meadows along with Vice-President Bobby Lewis visited 20 locations in one day during the event. The "Farmer" Bill Meadows donated $100 for each location they hit. "We are going to set the new world record for Meadows Farms locations visited in one day" Jay proclaimed. With a very well mapped out plan and the lack of any major traffic situations, this goal was accomplished.
This is a nationwide program that Proven Winners has supported for Independent Garden Centers across the country. It will raise over $250,000 in donations for the year. Meadows Farms will likely be the top nursery for this year in the program. By exceeding the $250,000 donation mark, Proven Winners will be able to name the researcher they want to finance with their donation. Proven Winners also gives a $1.00 donation for every "Invibella Spirit Hydrangea sold which was developed specifically for this cause.