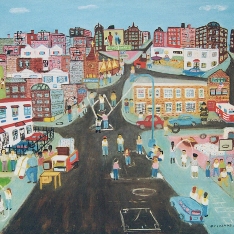 New York, NY (PRWEB) July 12, 2012
Wednesday, July 18 at 6:30 pm
The South Bronx: Deconstruction of a Neighborhood's Reconstruction
THE SOUTH BRONX: DECONSTRUCTION OF A NEIGHBORHOOD'S RECONSTRUCTION
The bisection of the South Bronx by Robert Moses's Cross-Bronx Expressway in 1950s, created the friction that, two decades later, contributed to the widespread arson and devastation in neighborhoods from Melrose to Hunts Point. Many residents began to organize and fight for their homes and streets even while "the Bronx [was] burning." Join us for a conversation with activists involved in that movement and the struggles that continue: Harry DeRienzo, President of Banana Kelly Community Improvement Association; Angel Garcia, organizer and former Director of South Bronx People for Change; Joe Muriana, associate vice president, Fordham University, and former Executive Director of Northwest Bronx Community and Clergy Coalition and Kellie Terry-Sepulveda, Executive Director of The Point Community Development Corporation.
They will share stories of persistence, political pressure, and how the occasional stroke of luck laid the foundation for the revival of their neighborhoods. Lois Harr, Director of Campus Ministry & Social Activism, Manhattan College, will moderate. Presented in conjunction with Activist New York, the inaugural exhibition in the Puffin Foundation Gallery. Co-sponsored by Banana Kelly Community Improvement Association and The Point Community Development Corporation.
RESERVATIONS REQUIRED
$12 Non-members; $8 Seniors and Students; $6 Museum Members
To order tickets visit: https://boxoffice.mcny.org/public/show.asp?shcode=397
*A two dollar surcharge applies for unreserved, walk-in participants.
For more information or to register by phone, please call 917-492-3395
Location: Museum of the City of New York, 1220 5th Avenue