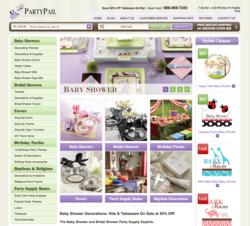 PartyPail's increase in growth, approach to serving clients, combined with their excellence in customer service, makes them an ideal partner. - Rory Leyden, Hoffmaster CEO
Oshkosh, WI (PRWEB) July 17, 2012
Oshkosh, WI - July 17, 2012 -- Hoffmaster Group, Inc., announced today that it has acquired the website and e-commerce assets of PartyPail, Inc. Effective immediately PartyPail's online retail operations will be overseen by Hoffmaster, and all of its current e-commerce operations will transfer to Hoffmaster Group as part of this transaction. PartyPail will operate as a separate division of Hoffmaster Group.
"Hoffmaster's industry knowledge and success in producing high-quality party supplies and food service tableware paired with our e-commerce expertise makes for an extraordinary opportunity for both organizations," states PartyPail CEO, Edward Hechter. "It made perfect sense as the next big step for our business."
PartyPail business operations will continue without interruption from PartyPail's Enumclaw, Washington offices, and CEO Edward Hechter will become President of Hoffmaster's PartyPail division. Customers of both Hoffmaster and PartyPail will receive the exact same level of exceptional customer service as they have received in the past.
"The opportunities between our companies will allow us to grow and gain experience in other channels of distribution," commented Hoffmaster CEO Rory Leyden. "It's an exciting time for us. PartyPail's increase in growth, approach to serving clients, combined with their excellence in customer service, makes them an ideal partner."
With recognition by the Puget Sound Business Journal as the "9th Fastest Growing Private Company" in Washington, PartyPail's rapid growth was a top reason for the acquisition by Hoffmaster. Since 2007, PartyPail has served over 200,000 satisfied customers online.
About Hoffmaster Group, Inc.
Founded in 1947, Hoffmaster Group, Inc., is a leading manufacturer and supplier of disposable tableware including paper plates, cups, napkins, decor, and more. With innovation as the cornerstone of the business' success, Hoffmaster continues to be a trendsetter, setting the standard for color, fashion, and design excellence in both its Food Service and Consumer divisions. Hoffmaster Group, Inc., is headquartered in Oshkosh, Wisconsin. For more information, visit http://www.hoffmaster.com.
About PartyPail, Inc.
PartyPail helps customers celebrate life's most important milestones by providing high quality party decorations and favors to people planning weddings, baby showers, religious ceremonies, and birthday celebrations. Founded in 2007, the company currently operates 7 retail e-commerce website properties, and a variety of social media outlets. Learn more by visiting http://www.PartyPail.com.