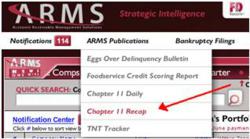 Great Neck, NY (PRWEB) July 12, 2012
Accounts Receivable Management Solutions (ARMS), an affiliated company of Information Clearinghouse, Inc. (ICI), has released its Chapter 11 Recap, which provides a look back at the previous six months of Chapter 11 activity from all 94 U.S. jurisdictions and presents the data by month, industry and state of primary operation. Users of the Chapter 11 Recap summary have access to the ARMS bankruptcy filings database for the ability to further filter and sort the information or "drill down" in detail, all the way to a PDF copy of the actual petition, with respect to all filings dating back to January 1, 2012.
Commenting on the Chapter 11 Recap, Lawrence Sarf, CEO of Accounts Receivable Management Solutions (ARMS), stated: "Spotting economic trends for business planning and resource allocation purposes has never been more important than today as companies focus on target-rich environments. Likewise, avoiding geographic or industry concentrations that are experiencing higher failure rates allows the more productive deployment of financial, as well as human resources. If there is a common theme that I hear from our manufacturing client base, it is the need to 'do more, with less' in this essentially zero growth economy. As always, that is a Herculean task, however, we believe that this tool can help in many areas of resource management."
ARMS' product offerings and database continue to grow exponentially, further establishing ICI's leadership in the financial analysis, trade credit and bankruptcy expertise fields through its three principal operating companies: F&D Reports, Creditntell and ARMS.
ARMS, along with sister companies F&D Reports (http://www.fdreports.com) and Creditntell (http://www.creditntell.com), are recognized as the premiere credit consulting services with respect to nearly 20 retail channels of distribution.
To request a copy of the Chapter 11 Recap, please contact Lori Ziegler at loriz(at)fdreports(dot)com /800.789.0123 ext.148 or visit http://www.fdarms.com and request a trial password.