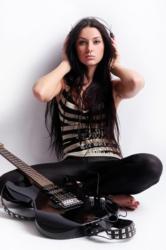 We have been absolutely overwhelmed with the response from our latest section all about teen modelling
London, UK (PRWEB UK) 13 July 2012
Teenage models bring luck and even more visitors to the winning website dedicated to listing the largest list of model agencies in the UK.
'We have been absolutely overwhelmed with the response from our latest section all about teen modelling at http://www.ukmodelagencies.co.uk ' says Helen. 'They are our most popular pages and we are having great fun pretending to be teenagers ourselves, putting ourselves into the shoes of the youngsters who want to get into modelling and don't know where to start. Our latest page is about how important it is to get a teen modelling portfolio and how to go about getting one made.'
The team at UK Model Agencies have been involved in the modelling industry for a number of years and pride themselves on their honest and open advice, up to date model information and listing all the latest casting calls as they come up. The brand new guide just launched today gives advice to teen models about the best way to kick start their career in the modelling industry and advise that a modelling portfolio, or 'book' as it is sometimes called, is the most efficient way to show model agents their potential.
'Your teen modelling book must be professional and sleek, only show off the best that you have got, and never put in anything substandard,' advises Jim Dawson, Chief Press Officer for UKMA. 'We always advise any aspiring model never use family snaps because these will work against a model and to make sure a model has the minimum of one head shot and a full height shot.' He continues, 'Most of all make sure the photographs have been taken by a professional because it will certainly show through. If the model doesn't look professional in their portfolio then first impressions can often mean the end of a model's dream before they have even begun.'
Stevie Lake, marketing manager for UK Model Agencies has wanted to tackle the teenage modelling section for some time, due to the growing number of emails from concerned parents. 'Modelling for teenagers and children is really at its peak moment,' he says.' But we do realise it is very hard for parents not to worry about their offspring, which is why we are concentrating really hard on our teenage modelling section at the moment, to hopefully answer questions they may have and put their minds at rest if we can.'
Check out the latest teenage modelling portfolio section to be opened for business at http://www.ukmodelagencies.co.uk today and bring your own luck on this unlucky day.