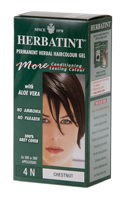 Herbatint Hair Color was rated #1 in safety in April, 2011 by 60 Million Consumers, France's leading consumer testing organization. Of the 18 well-known brands tested for performance and safety only Herbatint received an acceptable safety rating
Ghent, NY (PRWEB) July 14, 2012
Bioforce USA, exclusive distributor of Herbatint, an Italian Herbal Hair Coloring Gel, is pleased to announce they have taken the next step in getting the popular natural hair color from Italy into the awareness of the mainstream shopper and directing them to natural stores.
Herbatint, which uses natural herbs for a natural look, is well known to shoppers in natural products stores and its popularity brought it last year to the 10 million mark in boxes sold in the US.
"Our market research has shown that women are finding it increasingly important to use safer, more natural products" says Pierce Sioussat, President of Bioforce USA. "Women are discovering they can get vibrant, shiny, long lasting color without harsh chemicals or smell. When the magazine came to us about including Herbatint in their "Tips and Trends" section, we felt it was time to make this move. Of course, we were delighted to be noticed by such a well know and well regarded magazine as Ladies Home Journal."
Herbatint Hair Color was rated #1 in safety in April, 2011 by 60 Million Consumers, France's leading consumer testing organization. Of the 18 well-known brands tested for performance and safety only Herbatint received an acceptable safety rating, plus it was judged unique in providing a natural look with long-lasting color.
Herbatint is available in Health Food Stores all over the US, and selected pharmacies.
About Bioforce USA
Bioforce USA has created long-term strategic alliances with European manufacturers of product lines that have years of clinical research support for safety and efficacy, plus years of repeat consumer use. Bioforce USA has brought these lines, which include A. Vogel, Sanhelios, Herbatint, Bionorica, Bekunis, SECURE and DadoSens, exclusively to the United States for distribution through natural products and health food stores.
For more information call, Eileen Sheets: 518-828-9111 or go to http://www.bioforceusa.com