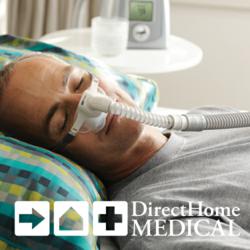 Like a hummingbird the new F&P Pilairo CPAP Mask is light, simple, and adaptable.
Hudson, NH (PRWEB) July 13, 2012
DirectHomeMedical.com is excited to announce immediate availability of Fisher & Paykel Healthcare's much anticipated F&P Pilairo Mask for the treatment of Sleep Apnea with CPAP or BiLevel Therapy.
Fisher & Paykel's first new nasal pillow mask in nearly 5 years, the Pilairo Mask was inspired by the adaptability and aerodynamics of the world's smallest bird. Like a hummingbird the Pilairo Mask is light (just 1.83 ounces), simple, and adaptable. Its revolutionary AirPillow cushion inflates, adapts and curves to a custom fit on a wide range of faces.
Pilairo's unique, minimalist StretchWise headgear is made of soft, latex-free, thread that automatically stretches and customizes to fit the wearer. There is no need for manual adjustments and tightening; just slide it on and enjoy.
Because of the masks incredible versatility Fisher & Paykel has been able to reduce the overall number of parts in the system. Fewer parts make the Pilairo easy to clean and also less expensive to buy. As part of launch promotion DirectHomeMedical.com is offering a free 30-day satisfaction guarantee on all Pilairo mask purchases. Try the new F&P Piliaro mask at home and, if not completely satisfied, return it within 30-days for a full refund of the original purchase price!
--
Obstructive Sleep Apnea (OSA) is the most common type of sleep apnea and is caused by obstruction of the upper airway. It is characterized by repetitive pauses in breathing during sleep, despite the effort to breathe, and is usually associated with a reduction in blood oxygen saturation. Common symptoms of sleep apnea include daytime sleepiness, fatigue, and nighttime snoring. Sleep apnea is most prevalent in adults but may also occur in children. The most common treatment for sleep apnea is Continuous Positive Airway Pressure (CPAP) Therapy in which air pressure, delivered to the nose or mouth via a mask, is used to keep the obstructed airway open during sleep.
DirectHomeMedical.com is dedicated to providing quality, affordable sleep therapy and oxygen products to patients nationwide. With nearly 1,000 products in stock and ready to ship at all times we pride ourselves in quick, courteous service and unparalleled customer support. DirectHomeMedical is an authorized supplier for all major sleep therapy and oxygen product manufacturers including ResMed, Philips Respironics, Fisher & Paykel Healthcare, Puritan Bennett, Hans Rudolph, Covidien, Cardinal Medical, DeVilbiss, SeQual, Inogen, and others. DirectHomeMedical.com offers a complete range of CPAP machines, BiPAP machines, CPAP Masks, Portable Oxygen Concentrators, Stationery Oxygen Concentrators, Cannulas, and other oxygen and sleep therapy supplies.
Contact a sleep or oxygen therapy specialist at DirectHomeMedical.com today; call toll free at (888) 505-0212 or visit http://www.directhomemedical.com