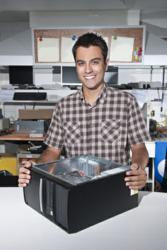 Wigan has beaten its second quarter record by an astonishing 25%.
UK (PRWEB UK) 13 July 2012
Wigan: Hitting a grand total of 231, this is the highest ever number of new companies formed in Wigan in April, May and June in any year, beating the previous all-time record Q2 of 185 new businesses, which was set in 2011.
"Wigan has beaten its second quarter record by an astonishing 25%," stated Peter Valaitis, Managing Director of Duport.co.uk, "As a town historically rooted in manufacturing, it's great to see some new entrepreneurial activity in Wigan – especially in these difficult economic times.
With concern over the impact of the recession on Wigan's young people, this surge in new business is a positive step in the right direction.
A recent report by Education Specialists Ambition Minds rated Wigan as 267th out of 324 towns in England for teenage ambition, indicating that Wigan's young people, despite being in line with the national averages for education, are not finding the opportunities or employment they need.
Chief Executive of Ambitious Minds, Sean McGuire stated, "Our young people and their families are confronted by a combination of daunting problems, from the sharply rising cost of higher education, to the difficulty of getting onto the housing ladder, to the huge challenge of getting a job and building a career.
"One damaging consequence of these problems has serious implications for all of us. We cannot hope to prosper as a stable society, either economically or socially, if we are unable to create a pathway for young people through education, and then into useful and secure employment."
But with Wigan setting new records for company formations, this rise in entrepreneurial activity could be the answer to its problems of youth unemployment and faltering ambition.
Duport.co.uk is a leading UK company formation agent, operating in the UK for around 15 years. Duport registers around 10,000 new companies each year using its Companies House approved software. The Company Register which is maintained by Companies House contains public information about Limited companies and directors.